Content
Assistive Product

DL Verein
Product Type:
System for member management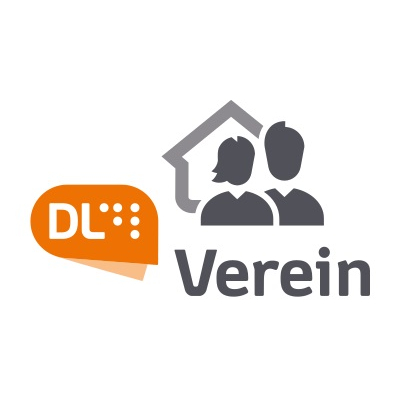 Areas of Application:
Blindness
Description:
DL Verein is the world's first inclusive software system for blind people, for sighted people and for people with motor and other impairments, which organises data and workflows for this area of application.
There are currently about 40 modules for DL Verein, which can be connected as required. The user interface can be greatly simplified to give users only those tools they actually need. Simplicity creates clarity and avoids operating errors. A complete list of modules is available.
Automated contact management:
- Duplicity checks,
- Completeness check of addresses
- Logging of address changes
- Monitoring of the last validity of elements of a contact (When was the mobile phone number last valid?),
- Possibility of entering several addresses for one person, which are only valid temporarily if necessary, e.g. on holiday or during a longer absence from the place of residence.
Additional information:
Depending on requirements, information such as type of disability, degree of disability, occupational status, vocational vocational training, interests, date of birth, health information, etc. can be recorded and evaluated.
Product and event offers, invitations, etc. can be submitted and sent in a targeted manner in this way.
Communication and task management:
DL can relate all communication processes, such as telephone calls or correspondence, to individual members or addresses. This makes it possible to see at any time who has received which letter, which circular, which parcel and much more.
Serial letters are automatically archived and documented.
Multi-sample format capability:
Graphical information that is not accessible can also be archived as an accessible text document, as an audio document or in Braille. This means that all information is accessible to all members in the sample format best suited to them. Written underlays can be output in alternative sample formats such as Wave, MP§ or Daisy.
Other features and modules include:
- Telephone dialling from the system as well as caller and task recognition.
- Appointment management with group and task functions
- Synchronization of contacts and appointments with smartphones and blind-specific devices such as the Organizer Pronto of the company Baum
- Fundraising with automated donation receipts
- Invoice and article management
- Warehouse management and merchandise management with RFID
- Transfer of debit data to the bank electronically (SEPA)
- Automatic import of booking data with comparison of open invoices
Price (without guarantee):
The price is available on request from the manufacturer / distributor.
Further Information
Product Information from the Manufacturer / Distributor:
Further Product Details
REHADAT does not sell any products
Please contact the manufacturer or distributor.
Manufacturer:
Draeger Lienert GmbH & Co. KG
Stadtwaldstr. 65
35037 Marburg
Germany Telephone: 06421 952400 Email: info@dlinfo.de Homepage: https://www.dlinfo.de
Distributor:
Draeger Lienert GmbH & Co. KG
Stadtwaldstr. 65
35037 Marburg
Germany Telephone: 06421 952400 Email: info@dlinfo.de Homepage: https://www.dlinfo.de
Options / Accessories:
The menu system as well as logical processes can be adapted to any requirement. With VBScript all modules can be used, combined and thus any further developments can be realized.
DL Verein is based on the DL Kontaktmanager software, which was presented as an inclusive solution by the Federal Ministry of Labour and Social Affairs (BMAS) in the practice collection Gesundheit und Teilhabe Arbeitswelt 4.0.
Keywords
ISO
Search for similar prodcuts in REHADAT:
Search for similar products in EASTIN throughout Europe:
ICF Items
Reference Number:
IW/282112.005
Source :
IW
Last Update: 16 Jul 2021