Content
Assistive Product

MOTIONSTIM 8
Product Type:
Muscle stimulator
Technology: FES (functional electrical stimulation)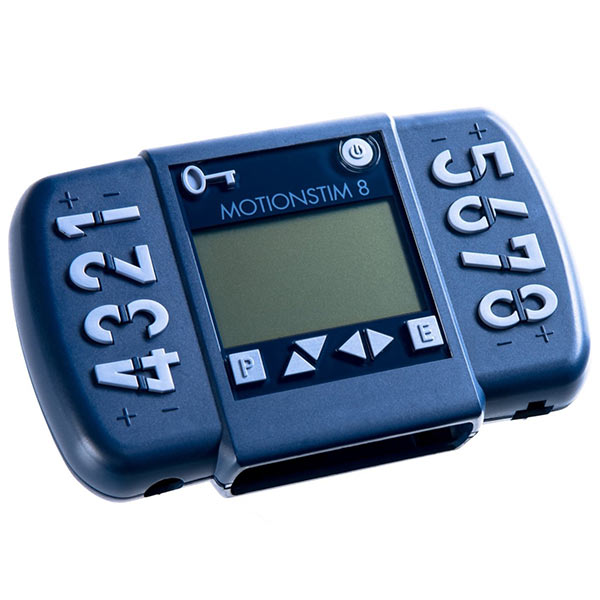 Areas of Application:
- Restoration of lost muscle functions, muscle building and muscle maintenance
- Functional movement sequences as part of exercise therapy
- Various possible uses (e.g. spasticity treatment, stimulation of intestinal perestalsis, training of the Auxiliary respiratory muscles)
Indications:
Indication according to the manufacturers instructions:
- Central paralysis with functional disorders of the upper and lower extremities (stroke, head trauma, multiple sclerosis, injuries to the spinal cord, etc.)
Contraindications:
Contraindications according to the manufacturers instructions:
- Implanted pacemakers
- Pregnancy
Features / Components:
- Easy program selection
- Adaptation of all parameters and programs
- Wide range of applications
- Independent of the mains (battery)
- Data storage / documentation
Price (without guarantee):
The price is available on request from the manufacturer / distributor.
Further Information
Product Information from the Manufacturer / Distributor:
Further Product Details
Technical Data:
Pulse frequency 1 - 99 Hz
Pulse duration 10 - 500 µsec
Rest periods: 0 - 59.9 seconds
Stimulation time: 0 - 59.9 seconds
Dimensions (L x W x H): 186 mm x 38 mm x 155 mm
Weight: approx. 550 g (with battery)
Power supply: internal battery
Keywords
ISO
Search for similar prodcuts in REHADAT:
Search for similar products in EASTIN throughout Europe:
ICF Items
Reference Number:
IW/042709.40
Source :
DIAS
Last Update: 24 Mar 2021