Content
Assistive Product

Emotionen erkennen lernen
Product Type:
Face Stencils for Recognizing Emotions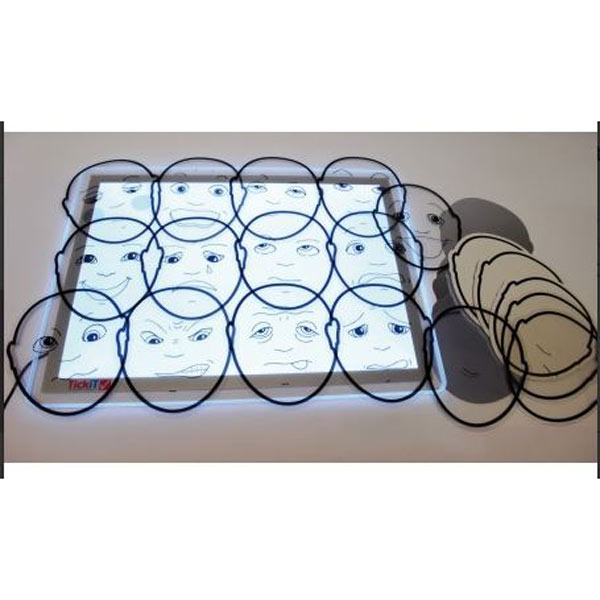 Areas of Application:
- Autism Spectrum Disorder
- Teaching the Scale of Feelings
- Primarily for Children
Description:
The Understanding Feelings Set (Learning to Recognize Emotions and Feelings) is designed to help people learn the Scale of Feelings in order to communicate more effectively with others.
Using the pieces in this set, people learn to name, observe, and better understand how they feel about themselves and how others feel.
The set consists of 13 clear plastic faces, each expressing a different emotion. These can be used by people on a table, pinned to a window or placed on a light panel. An A3 poster provides an overview of all the facial expressions.
The set includes English language instructions for teachers/therapists with examples and possible questions. Emotions represented: happy, proud, impatient, amazed, confused, bored, tired, sad, scared, angry, embarrassed, worried, excited.
Features / Components:
- 13 transparent plastic faces
- 3 blank faces
- 3 white faces that can be painted with a whiteboard pen
- 3 face-shaped mirrors
- Dimensions: 81 x 21.5 cm
- Material acetate
- complete with poster and tips for use (English)
Price (without guarantee):
29.01 EUR
(retail price incl. VAT)
Price date: 08.06.2022
Product Information from the Manufacturer / Distributor:
Further Product Details
Further Information
Reference Number:
Hil132825
Source :
DIAS
Last Update: 8 Jun 2022