Content
Assistive Product

AMBOS-3D
Product Type:
Digital Assistance System / Assembly System
Prototype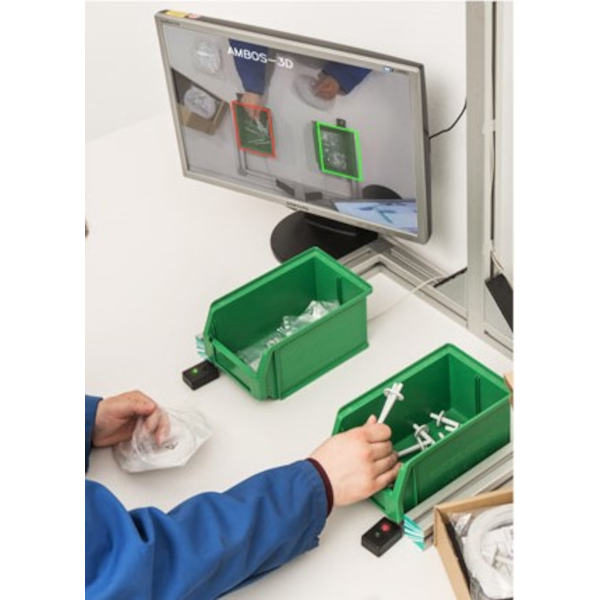 Areas of Application:
for example
- assembly workplaces
- workshops for disabled people (WfbM)
Description:
The AMBOS-3D project stands for "Assistance System for Manual Workshop Workplaces of People with Disabilities Using Optical 3D Sensor Technology".
The aim is to improve the everyday life of people with disabilities by using photonic technologies.

The technical assistance system records manual work processes using simple optical 3D sensor technology and analyzes hand movements. It provides a non-contact and easily adaptable means of quality assurance for manual work processes. It is based on components and open source software. The system is adaptable to the task as well as to the physical and mental abilities of the employed people and can be easily self-installed.
The assistance system was tested in a packing process of the Neckartalwerkstätten of the Caritasverband für Stuttgart e.V.
Other:
Coordinator: Fraunhofer IPA

Partner:
- Open Workshop: Hobbyhimmel
- WfbM: Caritasverband für Stuttgart e.V., Neckartalwerkstätten (NTW)
- Manufacturer of ergonomic workplaces: Ruck GmbH
Others:
- Project sponsor: Federal Ministry of Education and Research (BMBF)
- Photonics research
Product Information from the Manufacturer / Distributor:
Further Product Details
Further Information
REHADAT does not sell any products
Please contact the manufacturer or distributor.
Manufacturer:
Fraunhofer-Institut für Produktionstechnik und Automatisierung IPA
Nobelstr. 12
70569 Stuttgart
Germany Telephone: 0711 970-1800 Homepage: https://www.ipa.fraunhofer.de/
Distributor:
no data available

Reference Number:
Hil132723
Source :
IW
Last Update: Wed Aug 17 00:00:00 UTC 2022