Content
Assistive Product

ATAVT Adaptiver Tachistokopischer Verkehrsauffassungstest
Product Type:
- Diagnostic Software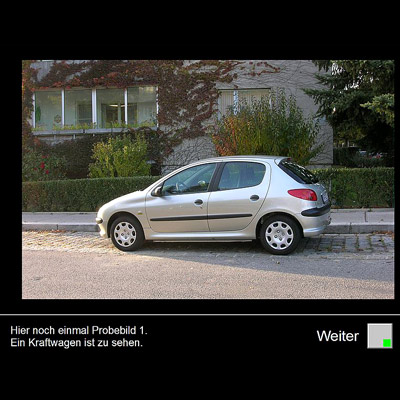 Areas of Application:
- psychological test
- clinical psychology
- performance diagnostics
- attention test
- perception test
Description:
This diagnostic software tests visual observation ability and overview acquisition as well as visual orientation performance and perception speed. The respondent is briefly presented with images of traffic situations. After each picture, he/she is asked to state what he/she saw. He/she can choose from five predefined answer options. The items are presented adaptively, i.e. after an initial phase in the course of the test, the respondent is increasingly presented only with items that are within the range of his/her ability in terms of difficulty.

The result of the test is the person parameter and the corresponding percentile rank together with the T-value.
Features / Components:
- S1: for the specification in countries with right-hand traffic
- S2: for the specification in countries with left-hand traffic
- S5: linear form
- S6: linear form
- norm sample in the extent of N=1190 people
- duration approx. 10 minutes
Price (without guarantee):
The price is available on request from the manufacturer / distributor.
Product Information from the Manufacturer / Distributor:
Weitere Details als PDF
Further Information
Reference Number:
DIAS/126312
Source :
DIAS
Last Update: 12 Jul 2022