Content
Assistive Product

Click-N-Type Bildschirmtastatur
Product Type:
screen keyboard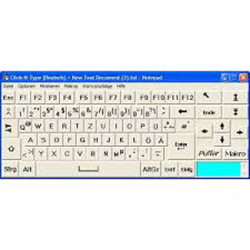 Areas of Application:
- Keyboard replacement for controlling a computer,
- If a computer keyboard cannot be operated due to existing movement restrictions, e.g. For example:
- quadriplegia, muscular dystrophy
Description:
Virtual keyboard, especially intended for users with physical disabilities; displays a keyboard on the screen so that the individual letters can be clicked with the mouse, for example; also copies the entered text to the clipboard at the push of a button.
Features / Components:
- Display of keyboard and special characters on the screen
- Selection of characters via a pointing device with a mouse click or automatically after an adjustable dwell time
- Selection with a keyboard key ( for example: space bar) or with an external key in the scanning possible
- own layout variants can be created
- also assignment of character strings (words) for keyboard buttons possible (macro function)
- colors, fonts and transparency can be set as required
- integrated word prediction (based on word lists, Word list can be edited)
- Compatible with all Windows text programs

System requirements:
- Windows version 95 or higher
Price (without guarantee):
The price is available from the manufacturer / distributor.
Product Information from the Manufacturer / Distributor:
Download bei Heise
Weitere Details des Herstellers
Further Information
Reference Number:
C/01102
Source :
DIAS
Last Update: 14 Apr 2021