Content
Assistive Product

Natural Voices
Product Type:
Speech synthesizer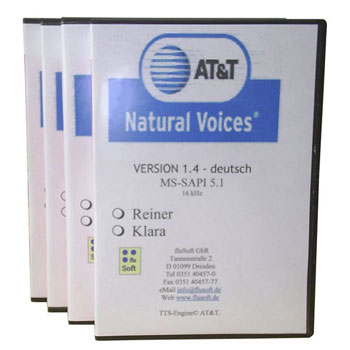 Areas of Application:
Visual impairment
Blindness
Speech impairment
Description:
Natural Voices is speech synthesis software which, in conjunction with a sound card, allows a written text to be converted into speech (text-to-speech) and to have it pronounced in German with a male or female voice. Natural Voices is supported by some screen readers for visually impaired and blind people, by some software-based communication aids for non-speaking people as well as by other programs.
Features / Components:
- Available as software
- Emphasis in sentence reading mode (sentence melody)
- Exception dictionary for special or different pronunciation
- integrated name database for first and last names
- language can also be interrupted within words
- control codes for pauses, intonations, DTMF tones, etc. Speech output) with additional linking algorithms
- supports Microsoft SAPI 4.0, 5.0 and 5.1
- supports SSML components of VoiceXML and SAPI interface standards
- SAPI interface and SSIL-compliant software
- for screen readers: ZoomText, Jaws, OutSpoken, Virgo , WindowEyes
- supports the Speech Access Manager (SAM) from Dolphin
- e.g. B. for screen readers HAL, SuperNova, LunarPlus
- available languages are German, US & UK English, French, Spanish (Latin American)
Price (without guarantee):
The price is available on request from the manufacturer / distributor.
Further Information
Product Information from the Manufacturer / Distributor:
Weitere Details des Vertriebs
REHADAT does not sell any products
Please contact the manufacturer or distributor.
Manufacturer:
AT&T - Shannon Labs
180 Park Avenue, Building 103, Room D171
NJ 07932 Florham Park
United States Email: research-info@research.att.com Homepage: http://www.research.att.com
Distributor:
fluSoft Spezial Computer Technik
Ulf Beckmann und Jan Mitzscherlich - Gesellschaft des bürgerlichen Rechts -
Tannenstr. 2
01099 Dresden
Germany Telephone: 0351 40457-0 Email: info@flusoft.de Homepage: http://www.flusoft.de
Keywords
ISO
Search for similar prodcuts in REHADAT:
Search for similar products in EASTIN throughout Europe:
ICF Items
Reference Number:
C/01072
Source :
KBV
Last Update: 20 Apr 2021