Content
Assistive Product

JAWS 2021
Product Type:
Screenreader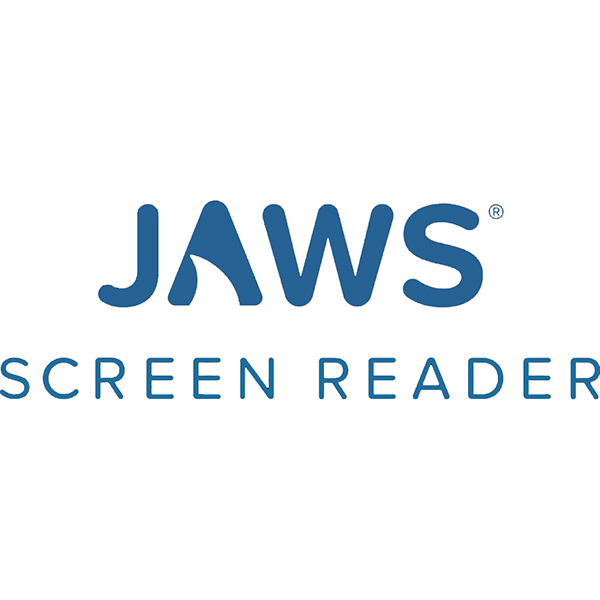 Areas of Application:
- Blindness
- Visual impairment
Description:
The JAWS (Job Access With Speech) screen reader enables blind and visually impaired people to access the PC by outputting the screen content via voice output or a Braille display.
Features / Components:
Functionality:
- Special internet functions such as: navigation hot keys, link and frame lists, a form mode and reading HTML tables
- Labels can be assigned or changed for both speech and Braille
- Speech synthesizer compatibility
Languages:
German, English (American and British), Finnish, French (French and Canadian), Italian, Spanish (Castilian and South American), Brazilian Portuguese
Speech output:
via common sound cards with integrated speech synthesis Eloquence
other supported speech outputs:
Apollo 2, Braillen Speak, DECtalk, Double Talk, FlexTalk, Juno, Keynote (PC, SA and P CMCIA), Infovox 500/700/220/230/330, Soundblaster with TextAssist, Speak & Win and others
Braille display compatibility:
- Braille display
- Output on all commercially available Braille displays
- JAWS supports Braille displays from the following manufacturers:
- ALVA, Blazie , Engineering, Handy Tech, Tiemann (not all functions supported)
- Telesensory, Papenmeier (not all functions supported), B&M (not all functions supported)
Software compatibility:
- Windows start functions controllable with voice output and Braille display
- Registration in the network possible
- Programs can be started from the desktop
- The taskbar and the task manager can be used
- Automatically recognizes empty data areas of an application
- Access to context menu and elements of the system menu
- File management with Windows Explorer possible
- System messages can be checked
- Allows reading of PDF documents (also protected documents from Acrobat)
- supports MS Internet Explorer 7 and Mozilla Firefox as well as w Other Internet programs
- supports all Windows standard programs and other common applications
- individual adaptation to different PC applications possible via scripts
Other:
- talking installation process
- instructions and help documentation available online, on data carrier and Braille
price (without Guarantee):
Prices are available on request from the manufacturer / distributor.
Further Information
SHI-Number:
SHI-Medical Technical Aids Register | 07.99.03.2001 | 07.99.03.2002
Product Information from the Manufacturer / Distributor:
Weitere Details des Herstellers
Neuerungen der Version 2021
REHADAT does not sell any products
Please contact the manufacturer or distributor.
Manufacturer:
Freedom Scientific European Headquarters
Breslau 4
2993 LT Barendrecht
Netherlands Telephone: +31 8867 83444 Homepage: http://www.freedomscientific.com
Distributor:
AASB Arbeitsplatz - Ausstattung für Sehbehinderte und Blinde
Inh.: Maria Seidling
Weingäßchen 4
91126 Schwabach
Germany Telephone: 09122 82404 Email: aasb@aasb-seidling.de Homepage: http://www.aasb-seidling.de
F.H. Papenmeier GmbH & Co.KG
Talweg 2
58239 Schwerte
Germany Telephone: 02304 205-0 Email: info@papenmeier.de Homepage: http://www.papenmeier.de
IPD Infosystem Produktion und Distribution GmbH
Würzburger Str. 8 A
30880 Laatzen
Germany Telephone: 0511 9363090 Email: post@ipd.gmbh Homepage: https://www.ipd.gmbh/
Keywords
ISO
Search for similar prodcuts in REHADAT:
Search for similar products in EASTIN throughout Europe:
ICF Items
Reference Number:
C/00505
Source :
KBV
Last Update: 3 Dec 2020