Content
Assistive Product

JAWS 2021
Product Type:
Screenreader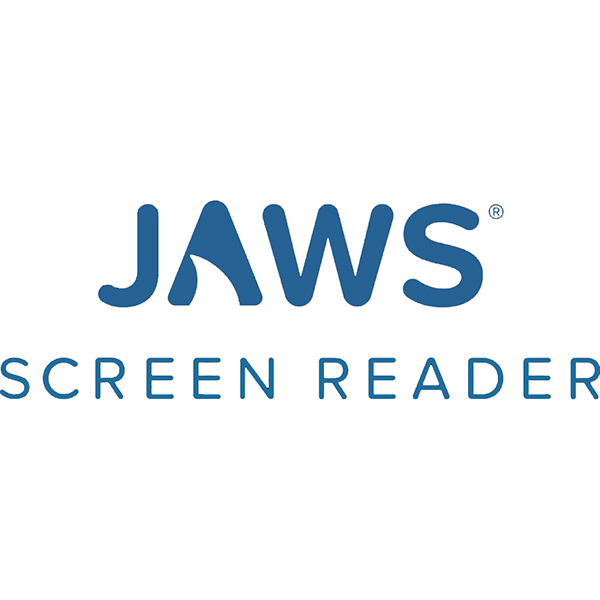 Areas of Application:
- Blindness
- Visual Impairment
Description:
The JAWS (Job Access With Speech) screen reader enables blind and visually impaired people to access the PC. The screen content is output via speech output or a Braille display.
Features / Components:
Functionality:
- special Internet features such as: Navigation quick keys, link and frame lists, a form mode and reading HTML tables
- labels can be assigned or changed for both speech and Braille
- speech synthesizer compatibility

Languages:
German, English (American and British), Finnish, French (French and Canadian),Italian, Spanish (Castilian and South American), Brazilian Portuguese

Speech output:
via common sound cards with integrated speech synthesis Eloquence
Other supported speech outputs:
Apollo 2, Braille'n Speak, DECtalk, Double Talk, FlexTalk, Juno, Keynote (PC, SA and PCMCIA), Infovox 500/700/220/230/330, Soundblaster with TextAssist, Speak & Win and others

Braille display compatibility:
- Braille monitor
- Output on all commercially available Braille displays
- JAWS supports Braille displays from the following manufacturers:
- ALVA, Blazie,Engineering, Handy Tech, Tiemann (not all functions supported)
- Telesensory, Papenmeier (not all functions supported), B&M (not all functions supported)

Software compatibility:
- Windows startup functions controllable with speech output and Braille display
- logon to network possible
- start programs from desktop possible
- use of taskbar and task manager possible
- automatic detection of empty data areas of an application
- access to context menu and elements of system menu possible
- file management with Windows Explorer possible
- system messages controllable
- allows reading of PDF documents (also protected documents from Acrobat)
- supports MS Internet Explorer 7 and Mozilla Firefox as well as other Internet programs
- supports all standard Windows programs and other common applications
- individual adaptations to different PC applications
- speaking installation process
- manual and help documentation available online, on data carrier and Braille
Price (without guarantee):
Prices are available on request from the manufacturer / distributor.
SHI-Number:
SHI-Medical Technical Aids Register | 07.99.03.2001 | 07.99.03.2002
Product Information from the Manufacturer / Distributor:
Weitere Details des Herstellers
Neuerungen der Version 2021
Weitere Details des Vertriebs (Papenmeier)
Weitere Details des Vertriebs (Rohrmüller)
Further Information
REHADAT does not sell any products
Please contact the manufacturer or distributor.
Manufacturer:
Freedom Scientific European Headquarters
Pesetastraat 5a
2991 XT Barendrecht
Netherlands Telephone: +31 8867 83444 Homepage: http://www.freedomscientific.com
Distributor:
AASB Arbeitsplatz - Ausstattung für Sehbehinderte und Blinde
Inh.: Maria Seidling
Weingäßchen 4
91126 Schwabach
Germany Telephone: 09122 82404 Email: aasb@aasb-seidling.de Homepage: http://www.aasb-seidling.de
F.H. Papenmeier GmbH & Co.KG
Talweg 2
58239 Schwerte
Germany Telephone: 02304 205-0 Email: info@papenmeier.de Homepage: https://www.papenmeier.de
IPD Infosystem Produktion und Distribution GmbH
Würzburger Str. 8 A
30880 Laatzen
Germany Telephone: 0511 9363090 Email: post@ipd.gmbh Homepage: https://www.ipd.gmbh/
Reference Number:
C/00505
Source :
DIAS
Last Update: 16 May 2022