Content
Assistive Product

IMBA Integration von Menschen mit Behinderung in Arbeit
 | 

Software MARIE
Product Type:
Assessment procedure / Software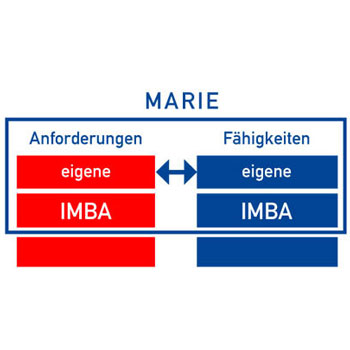 Areas of Application:
professional rehabilitation
Description:
IMBA - integration of people with disabilities into work - is a profile comparison procedure in professional rehabilitation to compare the requirements of a job with the skills of a person. The process was developed by an interdisciplinary team of doctors, psychologists and ergonomists. The assessment procedure is suitable for use in outpatient and inpatient rehabilitation facilities or in companies, for example for implementing occupational integration management (BEM) or for risk assessment in occupational safety.

Work requirements and human skills can be described and compared using defined characteristics. From the resulting need for action, targeted measures for designing work and promoting skills can be derived. IMBA is used as an instrument for quality assurance in occupational therapy and in activity-oriented medical rehabilitation.

MARIEplus is the new software for the IT application of IMBA. MARIE stands for Matching Abilities and Requirements to Increase Evidence.

The individual characteristics are assigned to nine characteristic groups:
- Posture (e.g. sitting)
- Movement of the body (e.g. walking)
- Movement of the body part (e.g. arm movements)
- Information (e.g. seeing)
- Complex characteristics (e.g. lifting) )
- Environmental influences (e.g. noise)
- Occupational safety (e.g. accident risk)
- Work organization (e.g. shift work)
- Key qualifications (e.g. teamwork)
Price (without guarantee):
The price is available on request from the manufacturer / Sales available.
Product Information from the Manufacturer / Distributor:
IMBA Verfahren
MARIEplus
Further Information
Reference Number:
IW/281806.002
Source :
IW
Last Update: 30 Mar 2020