Content
Assistive Product

Lernsoftware Silben-Himmel
Product Type:
Training software
Learning software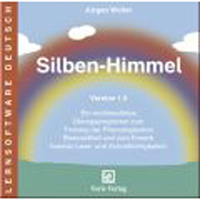 Areas of Application:
- Training in reading skills
- Training in writing skills
- German lessons
- Special needs education
- Suitable for preschool, elementary and special needs school
Description:
With this learning software, preschool children can learn the sound Train the breakdown of words.
Features / Components:
- Suitable for school and at home
- Learning to read sounds and words on a syllable basis
- Reading out individual syllables is possible
- Child-friendly explanatory videos
- Individual learning status can be saved
- DVD -Drive requ
Price (without guarantee):
1.99 EUR including VAT (recommended retail price)
Price date: June 17, 2020
Product Information from the Manufacturer / Distributor:
Further Product Details
Further Information
Technical Data:
Operating system: WIN 98, ME, 2000 or XP
PC: min. Pentium II 400 MHz, min. DirectX 7.
Reference Number:
DIAS/007075
Source :
DIAS
Last Update: 17 Jun 2020