Content
Assistive Product

Elektrofahrzeug Alke ATX
Product Type:
Electric transport vehicle with tiltable flatbed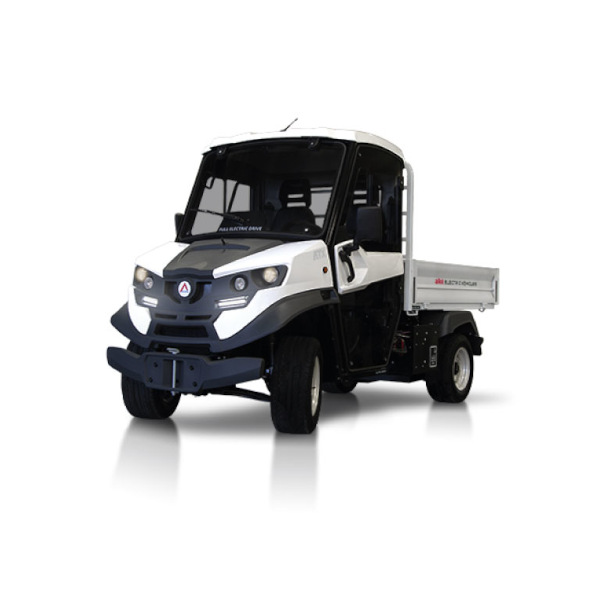 Areas of Application:
Description:
The electric vehicle is versatile in industry and logistics, municipal and waste management, the maintenance of parks and green spaces or in recreational parks. It also has the European N1 road approval.
Features / Components:
- Seats: 2-4
- More than 40 bodies available
- 5 different wheelbases
- Left and right hand drive
- Cab: All-round visibility, heated and opening windscreen
- Lead-acid battery
- Integrated, PFC-active high-frequency charger
- Charging via 230V sockets with 16A or with a blue CEE
Price (without guarantee):
The price is available on request from the manufacturer / distributor.
Product Information from the Manufacturer / Distributor:
Weitere Details des Vertriebs
Weitere Details des Herstellers
Further Information
REHADAT does not sell any products
Please contact the manufacturer or distributor.
Manufacturer:
Alke
Via Cile 5
35127 Padova
Italy Mobile: +39 49 8702400 Email: info@alke.com
Distributor:
Heinrich Moerschen GmbH & Co. KG
Tempelsweg 1
47918 Tönisvorst
Germany Mobile: 02151 9957-0 Email: info@moerschen.de Homepage: https://alke-elektrofahrzeuge.de
Technical Data:

Size of loading bed (LxW): 1300x1230 - 2000x1400 mm
Battery: 10 kWh
Max. Speed: 44 km/h
Max. Range: 150 km
Max. Payload: 1630 kg
Max. Towing capacity: 4500 kg


Options / Accessories:
- Air conditioning
- Digital radio
- Central locking
- Rear view camera
- Lithium batteries
Reference Number:
Hil134792
Source :
IW
Last Update: 6 Jul 2022