Content
Assistive Product

Hubtischwagen Modell HX 150
Product Type:
Hydraulic lift truck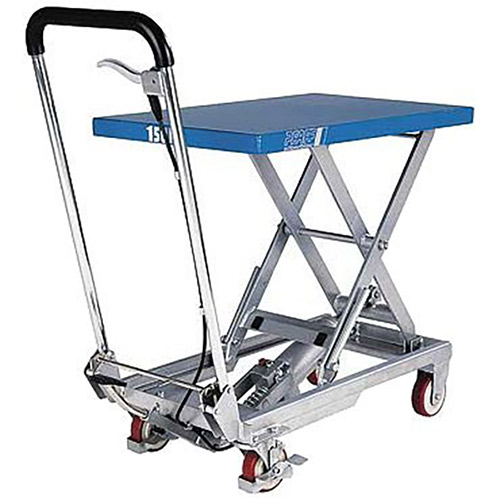 Areas of Application:
for example, to relieve the musculoskeletal system
Description:
The lift table trolley is used as a work table, for providing, lifting and transporting loads at short distances for continuous use and for the professional sector. Workpieces can be raised to an ergonomic height. The wheels make the scissor lift mobile. As a result, workflows can be accelerated and made more ergonomic, especially in warehouses. This not only saves costs, but also increases health prevention.
Features / Components:
- Hydraulic lifting of the load with foot pedal
- Sensitive lowering of the load by adjustable lowering speed
- Push handle foldable
- Locking device on the castors
- With hard chromed piston rod and overload protection
- Tires PUR /
Price (without guarantee):
318,25 EUR plus VAT
Product Information from the Manufacturer / Distributor:
Further Product Details
Further Information
Technical Data:
Platform height: max. 720 mm
Platform height: min. 220 mm
Stroke: 500 mm
Stroke per pumping movement: 27 mm
Load capacity: 150 kg
Reference Number:
Hil133217
Source :
IW
Last Update: 3 Mar 2020