Content
Assistive Product

Emil und Pauline auf dem Spielplatz
Product Type:
Training software
Learning software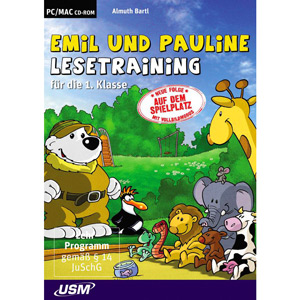 Areas of Application:
- German lessons
- Training of reading skills
- Training of writing skills
- suitable for class 1
Description:
The learning software trains with German for 1st class. The curriculum-oriented learning games are based on new knowledge from pedagogy, specialist didactics and psychology.
Features / Components:
- 8 learning games
- Random combination of games
- Difficulty level can be individually adjusted
- Ticket control in the mini-train
- See-sawing with the bear children
- Ferris wheel ride with the trumpeting elephants
- Balloon
Price (without guarantee):
CD-ROM: 9.99 EUR
Download Win: 7.99 EUR
(each retail price including VAT)
Price date: April 13th, 2021
Product Information from the Manufacturer / Distributor:
Further Product Details
Further Information
REHADAT does not sell any products
Please contact the manufacturer or distributor.
Manufacturer:
United Soft Media Verlag GmbH
Thomas-Wimmer-Ring 11
80539 München
Germany Telephone: 089 29088 175 Email: info@usm.de Homepage: https://www.usm.de
Distributor:
United Soft Media Verlag GmbH
Thomas-Wimmer-Ring 11
80539 München
Germany Telephone: 089 29088 175 Email: info@usm.de Homepage: https://www.usm.de
Technical Data:
Operating system: Win XP, Vista / 7/8/10 or MacOS from 10.4
CPU: Athlon / Pentium, 1 GHz or Power PC / Intel Core
RAM: 256 MB
Graphics resolution: 1024 x 768 px
Color depth: High Color 16 Bit
CD / DVD-Rom speed: 12x
Hard disk space: 200 MB
Reference Number:
DIAS/005449
Source :
DIAS
Last Update: 13 Apr 2021