Assistive Product

Waschbeckenmodul
Product Type:
Wash basin module for height adjustment of wash basins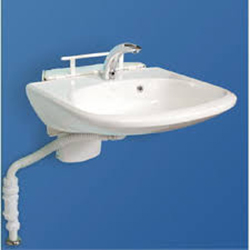 Areas of Application:
- wheelchair users
- Paraplegia
Description:
The module behind the wash basin enables the wash basin to be continuously adjusted in height and depth. This allows different people to use the same sink: standing people, wheelchair users and children.
Additional legroom is created for wheelchair users through the simultaneous depth adjustment.
Price (without guarantee):
1.340,10 EUR plus VAT
Retail price
Product Information from the Manufacturer / Distributor:
Further Product Details as PDF
Further Information
Reference Number:
M/23963
Source :
IDTS
Last Update: 21 Jun 2020