Assistive Product

Elektrische Vakuumtherapie Erektionshilfe AVP-1000
Product Type:
erection aid, vacuum erection system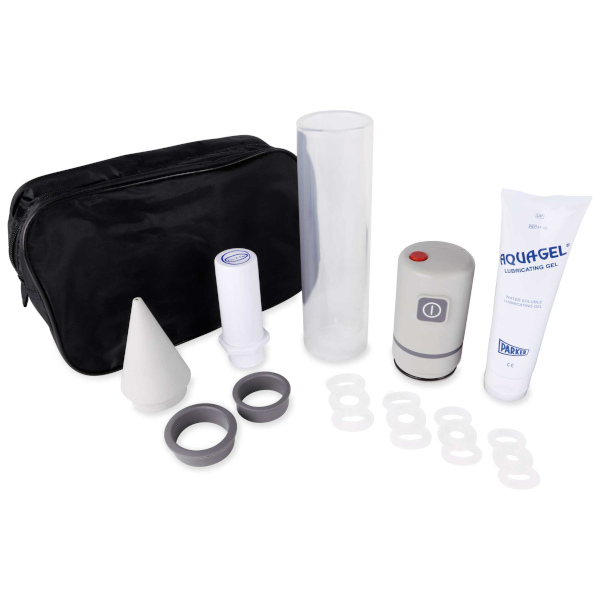 Areas of Application:
- erection aid
- sexual disorder
- sexual relationships
Description:
possible uses of the AVP 1000 system (information provided by the supplier)
- erectile dysfunction of organic origin
- erectile dysfunction due to dysfunction of the nervous system
- Vascular diseases
- Men with a contraindication to drug-based erection stimulation

Working principle of vacuum therapy:
By means of negative pressure in the cylinder, the amount of blood required to achieve an erection flows into the penis. An erection ring prevents the venous outflow of blood; the ring can remain on the penis shaft for up to 30 minutes.
Delivery:
- erection pump
- 1 AVP-1000
- 2 reducing rings
- 1 tube of gel (113 g)
- 4 tension rings
- 1 pulling aid for tension ring (cone )
- 1 instruction manual
- 1 transport bag
- 3 batteries 1.5 V
Price (without guarantee):
422.60 EUR, including VAT (sales)
Retail price
SHI-Number:
SHI-Medical Technical Aids Register | 99.27.02.0016
Product Information from the Manufacturer / Distributor:
Further Product Details
Further Information
REHADAT does not sell any products
Please contact the manufacturer or distributor.
Manufacturer:
no data available

Distributor:
MTR+ Vertriebs GmbH
Kamenzer Damm 78
12249 Berlin
Germany Telephone: 030 6699-1030 Email: info@mtrplus.com Homepage: http://www.mtrplus.com
Reference Number:
M/26190
Source :
IDTS
Last Update: 10 May 2021