Assistive Product

PC30 medizinische Hautpflege
Product Type:
Skin Care Products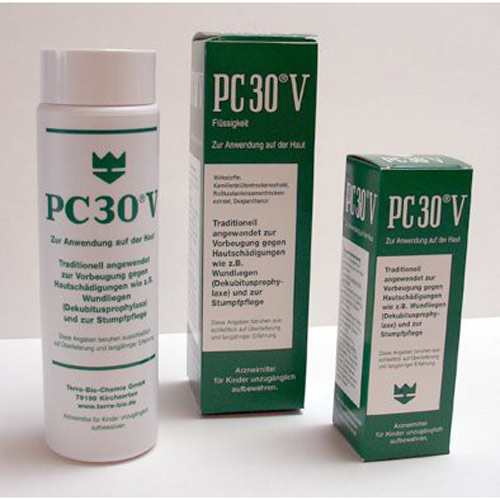 Areas of Application:
- Bed sore prophylaxis for bedridden patients
- Stump care for prosthesis wearers
Description:
PC 30 medical skin care promotes tissue tolerance and the natural function of the skin, is free of irritating substances, does not form a film, is non-greasy and does not tan. It contains dexpanthenol, horse chestnut extract and chamomile extract. The active ingredients are intended to help prevent pressure, friction and chafing, skin irritation and inflammation.
Price (without guarantee):
24,77 EUR
(end consumer price incl. VAT)
Price date: 17.11.2022
Product Information from the Manufacturer / Distributor:
Further Product Details
Further Information
REHADAT does not sell any products
Please contact the manufacturer or distributor.
Manufacturer:
CHEPLAPHARM Arneimittel GmbH
Ziegelhof 24
17489 Greifswald
Germany Telephone: 03834 3914-0 Email: info@cheplapharm.de Homepage: https://www.cheplapharm.com
Distributor:
Sanitätshaus SEMED
Nicole Döhler
Neuplanitzer Str. 94
08062 Zwickau
Germany Telephone: 0375 28555130 Email: mail@semed.de Homepage: https://www.semed.de
Reference Number:
M/26151
Source :
DIAS
Last Update: 17 Nov 2022