Content
Assistive Product

Zahnprothesen Bürste für eine Hand
Product Type:
Toothbrush with suction cups for cleaning dentures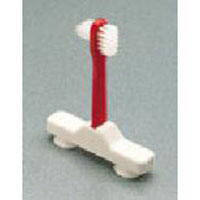 Areas of Application:
- Denture cleaner
- Movement restriction
- Hand disability
- One-handedness
Description:
The toothbrush with suction cups is suitable for people with movement restrictions or for people who only have one hand available. The holder is attached to the edge of the washbasin with suction cups.
Price (without guarantee):
17,95 EUR incl. VAT. (Distribution)
End user price
Further Information
Product Information from the Manufacturer / Distributor:
Further Product Details
REHADAT does not sell any products
Please contact the manufacturer or distributor.
Manufacturer:
no data available

Distributor:
Ovata
Joachim Zombori
Dachauer Str. 99b
85778 Haimhausen
Germany Telephone: 08133 444838 Email: info@ovata.de Homepage: https://www.ovata.de/
Keywords
ISO
Search for similar prodcuts in REHADAT:
Search for similar products in EASTIN throughout Europe:
ICF Items
Reference Number:
M/24235
Source :
IDTS
Last Update: 29 May 2021