Content
Assistive Product

Ultraschallzahnbürste Megasonex M8
Product Type:
Ultrasonic toothbrush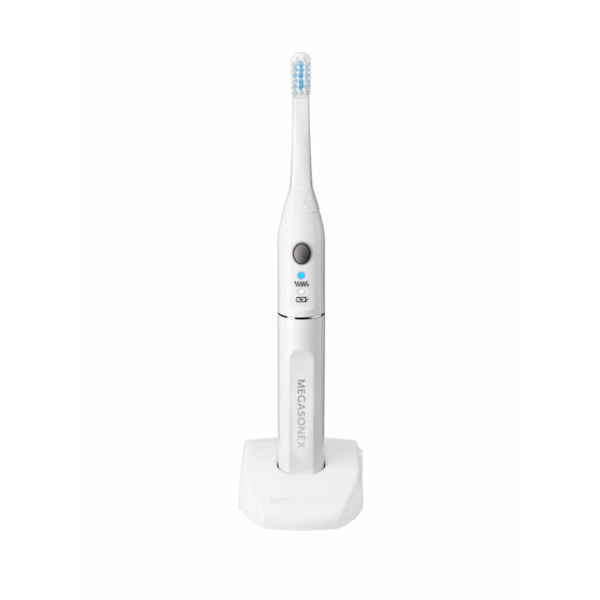 Areas of Application:
- Hand disabilities
- Prosthesis wearers
- People with sensitive teeth
Description:
The ultrasonic toothbrush cleans teeth without mechanical movements.
The toothbrush uses ultrasound to remove plaque and render bacteria harmless . Ultrasonic toothbrushes work at a frequency of 1.6 MHz. That corresponds to 96 million pulses per minute. This frequency is no longer perceptible to the human ear. In the pure ultrasonic mode, the vibrations are also imperceptible.
In addition to the ultrasonic operation, the toothbrush can be used as a sonic toothbrush. There are two freely adjustable modes: 9,000 and 18,000 vibrations per minute.
Ultrasonic vibrations set the toothpaste foam in rapid motion, which removes stubborn deposits. However, a special toothpaste is not necessary when using the ultrasonic toothbrush. Ultrasound works with moisture and this is found in saliva and in commercially available toothpaste.
Price (without guarantee):
145.95 EUR including VAT (sales)
Retail price
Product Information from the Manufacturer / Distributor:
Further Product Details
Further Information
REHADAT does not sell any products
Please contact the manufacturer or distributor.
Manufacturer:
no data available

Distributor:
smilestore
Kay Link
Girardetstr. 64
45131 Essen
Germany Telephone: 0201 453549-0 Email: info@smile-store.de Homepage: https://www.smile-store.de/impressum
Reference Number:
Hil134716
Source :
IDTS
Last Update: Mon Feb 08 00:00:00 UTC 2021