Assistive Product

Set Dan Dryer - Haartrockner
Product Type:
Height-adjustable hairdryer with wall-mounted rails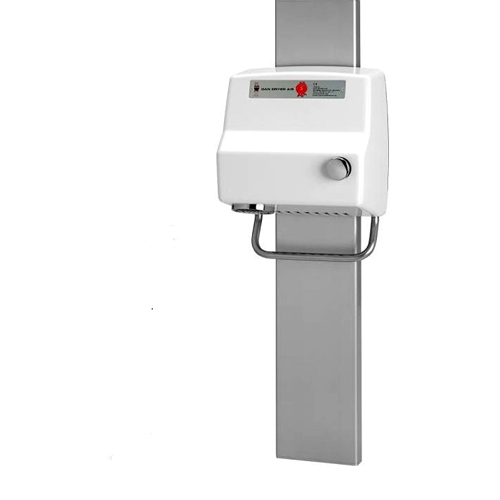 Areas of Application:
- Wheelchair users
- Public area
- eg. B. Hair Dryer in Public Sports Facilities
Description:
The unit is quiet and the die-cast aluminum body provides the necessary stability. The built-in thermal fuse (120 sec.) Protects the device from overheating.
The push-button version can be used as a hairdryer or as a hand dryer.
Features / Components:
- Die-cast 4 mm
- Aluminum housing
- With thermal fuse (both in the engine as well as in the radiator)
- adjustable drying time
- maintenance-
Price (without guarantee):
1.320,00 EUR tax incl. (Sales)
For set with dryer, rail and mirror
Retail price
Price Date: 20.02.2019
Product Information from the Manufacturer / Distributor:
Further Product Details
Further Information
REHADAT does not sell any products
Please contact the manufacturer or distributor.
Manufacturer:
no data available

Distributor:
Schrama Handels GmbH
Wasserburger Str. 50a
83395 Freilassing
Germany Telephone: 08654 4089990 Email: info@hygiene-shop.eu Homepage: https://hygiene-shop.eu
Technical Data:
Dimensions: 201mm, 311mm, 313mm (T, B, H)
Weight: 7.45kg
Rated Power: 2,360W
Motor Power: 110W
Voltage: AC 220v / 50Hz
Noise Level: 62dBA
Air Circulation: 72 l / sec
Adjustable drying time: 25 to 170 seconds
Reference Number:
M/26941
Source :
IDTS
Last Update: 26 Apr 2021