Assistive Product

RUSSKA Haarwaschwanne Premium, aufblasbar
Product Type:
Head wash basin, inflatable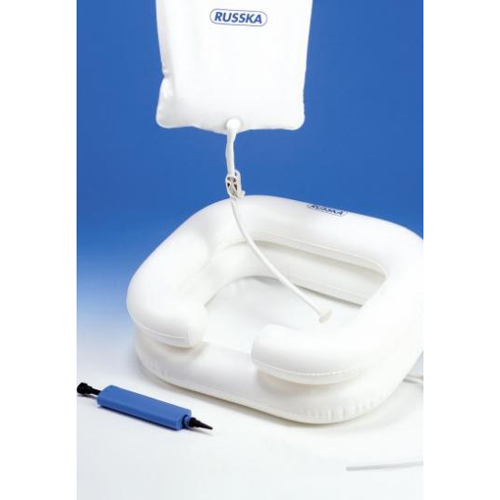 Description:
The hair wash basin helps to provide care-oriented hygiene for people who are bedridden. It can be used to wash the hair without having to move the patient out of bed.
The tub has a square shape and has a permanently integrated drain hose. The integrated headrest ensures comfortable lounging on the tub.
The shower device included in the delivery: holds about 10 liters and has a clamp to regulate the amount of water.
A hand pump is also included to inflate the lounger.
Features / Components:
- Material: hair wash tub: polystyrene
- Pump: pla
Price (without guarantee):
44.99 EUR including VAT (sales)
End user price
SHI-Number:
SHI-Medical Technical Aids Register | 51.45.01.0010
Product Information from the Manufacturer / Distributor:
Further Product Details
Further Information
Technical Data:

Dimensions: 60 x 50 x 20 cm
Capacity of tub: 12.5 l
Reference Number:
M/42376
Source :
IDTS
Last Update: 4 Aug 2022