Assistive Product

CogniPlus Trainingssoftware FOCUS Fokussierte Aufmerksamkeit
Product Type:
Training software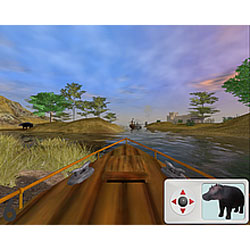 Areas of Application:
- Rehabilitation of patients with brain damage
- Can also be used with restrictions of the visual field or a half-sided neglect
- Training of cognitive skills
Description:
The program trains focused attention. A boat is shown driving through the jungle. The test person should react to previously defined stimuli (e.g. screeching birds, waterfall, flying dragonflies) and suppress the reaction to irrelevant stimuli.
Features / Components:
- two forms of training
- realistic design
- adapts to the maximum perception of the patient to
Other:
Supervisor required for instruction and evaluation
Price (without guarantee):
The price is available on request from the manufacturer / distributor.
Product Information from the Manufacturer / Distributor:
Further Product Details
Further Information
Reference Number:
DIAS/006322
Source :
DIAS
Last Update: 28 Sep 2020