Assistive Product

Emil und Pauline auf dem Spielplatz
Product Type:
Training Software
Educational Software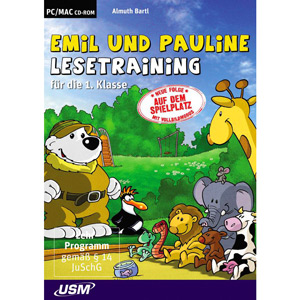 Areas of Application:
- Teaching German
- Training Reading Skills
- Training Writing Skills
- Suitable for Grade 1
Description:
The educational software trains with German for Grade 1. The curriculum-oriented learning games are based on new findings from pedagogy, subject didactics and psychology.
Features / Components:
- 8 learning games
- Random compilation of games
- Level of difficulty can be adjusted individually
- Ticket control in the miniature railroad
- Teetering with the bear children
- Ferris wheel ride with the trumpeting elephants
- Balloon
Price (without guarantee):
Download Win: 6,99 EUR
(each end user price including VAT.)
Price date: 25.07.2023
Product Information from the Manufacturer / Distributor:
Further Product Details
Further Information
REHADAT does not sell any products
Please contact the manufacturer or distributor.
Manufacturer:
United Soft Media Verlag GmbH
Thomas-Wimmer-Ring 11
80539 München
Germany Telephone: 089 29088175 Email: info@usm.de Homepage: https://www.usm.de
Distributor:
United Soft Media Verlag GmbH
Thomas-Wimmer-Ring 11
80539 München
Germany Telephone: 089 29088175 Email: info@usm.de Homepage: https://www.usm.de
Technical Data:

Operating system: Win 7, Vista, XP
Memory: 256 MB
Graphic resolution: 1024 x 768 px
Hard disk space: 200 MB
Reference Number:
DIAS/005449
Source :
DIAS
Last Update: 25 Jul 2023