Assistive Product

Lernsoftware Textstrahler
Product Type:
Training Software
Educational Software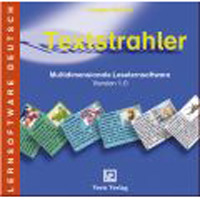 Areas of Application:
- Reading Skills Training
- Writing Skills Training
- German Lessons
- Remedial Lessons
- 1st and 2nd Grade
Description:
A multidimensional reading educational software that lets each student learn at his/her own pace and teaches reading skills up to the text level.
Features / Components:
- Word synthesis through syllable isolation
- 60 texts
- 3 levels of difficulty
- DVD drive required
- Version
Price (without guarantee):
1,00 EUR incl. VAT (recommended retail price)
Price date: 08.08.2023
Product Information from the Manufacturer / Distributor:
Further Product Details
Further Information
REHADAT does not sell any products
Please contact the manufacturer or distributor.
Manufacturer:
Veris Gesellschaft für Bildungswesen mbH
Wilhelmstr. 23
24143 Kiel
Germany Telephone: 0431 80094-0 Email: info@veris-direct.de Homepage: https://veris-direct.de
Distributor:
Veris Gesellschaft für Bildungswesen mbH
Wilhelmstr. 23
24143 Kiel
Germany Telephone: 0431 80094-0 Email: info@veris-direct.de Homepage: https://veris-direct.de
Technical Data:

Operating System: WIN 98, ME, 2000, NT or XP
PC: min. Pentium II 400 MHz, 64 RAM
Screen resolution: 640 x 480 px
Reference Number:
DIAS/007076
Source :
DIAS
Last Update: 8 Aug 2023