Content
Assistive Product

Tastatur-Diktat-Trainer
Product Type:
Training software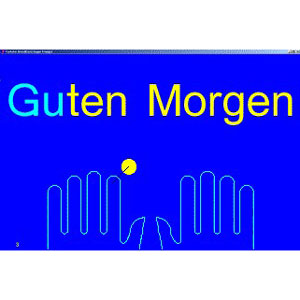 Areas of Application:
- Keyboard training
- Also suitable for the visually impaired
Description:
Learning the 10-finger tip system on the computer keyboard. Can also be used as a spelling learning program in the form of transcription exercises and dictations for words and sentences. Can be used in rehab and occupational therapy for hand-eye coordination exercises.
Features / Components:
- Hand mapping with finger marking and keyboard mapping are selectable
- Including typewriting course
- Very large font can be set
- Can be expanded with a separate editor for word and sentence input
- Including dictation program with voice output
- Expandable: words and Sentences can be saved and any text can be used.
- System requirements: Operating system: XP / 2000 / Vista / Windows 7
Price (without guarantee):
Single license: 19.95 EUR
School license: 99.00 EUR
Practice license 5 places: 39.80 EUR
(each retail price including VAT)
Price date: 02/17/2021
Product Information from the Manufacturer / Distributor:
Further Product Details
Further Information
REHADAT does not sell any products
Please contact the manufacturer or distributor.
Manufacturer:
Eugen Traeger Verlag Entwicklung u. Vertrieb von Lern- u. Therapie-Software
Hoher Esch 52
49504 Lotte
Germany Telephone: 05404 71858 Email: info@etverlag.de Homepage: https://etverlag.de
Distributor:
Eugen Traeger Verlag Entwicklung u. Vertrieb von Lern- u. Therapie-Software
Hoher Esch 52
49504 Lotte
Germany Telephone: 05404 71858 Email: info@etverlag.de Homepage: https://etverlag.de
Reference Number:
586801
Source :
DIAS
Last Update: 17 Feb 2021