Content
Assistive Product

Sprachkarten Was würdest du tun?
Product Type:
Scenes from everyday life for social behavior training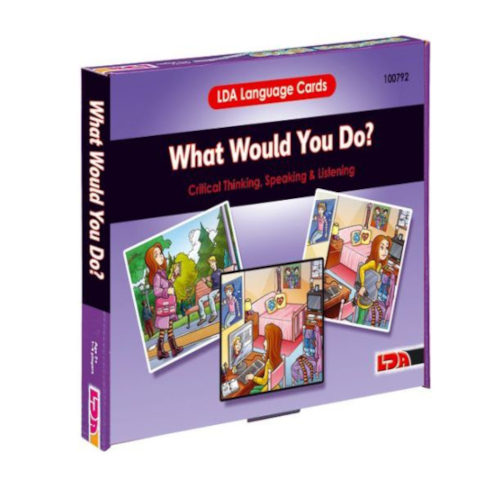 Areas of Application:
- Training of social behavior
- Language promotion
- Speech therapy
- Special education
- Foreign language lessons
- suitable for 2nd to 4th school year and older students
Description:
To each of the 8 large situation cards includes 4 cards with possible solutions. Topics are for example: a girl finds a handbag on the street; or a boy watches a phone booth being destroyed. This is a topic for discussion and narration and stimulates the use of language.
Features / Components:
- 8 situation cards
- 32 solution cards 14 x 12.5 cm
- Instructions in German
Price (without guarantee):
39.80 EUR
(each retail price including VAT)
Price date: 02/10/2021
Product Information from the Manufacturer / Distributor:
Further Product Details
Further Information
REHADAT does not sell any products
Please contact the manufacturer or distributor.
Manufacturer:
no data available

Distributor:
K2-Verlag GmbH
Stemmerstr. 54
78266 Büsingen
Germany Telephone: 07734 935748 Email: service@k2-verlag.de Homepage: http://www.k2-verlag.de
Keywords
ISO
Search for similar prodcuts in REHADAT:
Search for similar products in EASTIN throughout Europe:
ICF Items
Reference Number:
Hil134727
Source :
DIAS
Last Update: 10 Feb 2021