Assistive Product

Sphinktertrainer ST-2001 M
Product Type:
Muscle stimulator / biofeedback device
Technology: Electromyography (EMG) based biofeedback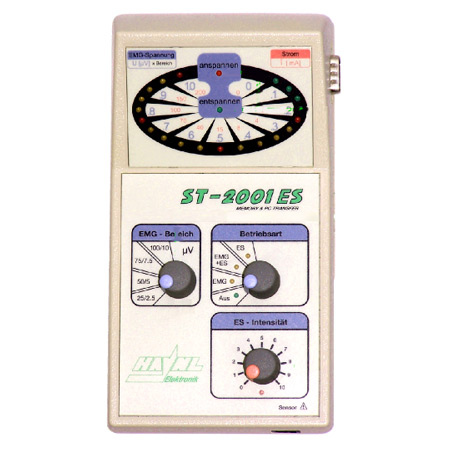 Areas of Application:
- Stress, urge or mixed incontinence
- Fecal incontinence
- Prostatectomy or anal atresia
- Functional bladder voiding disorder
Features / Components:
- LED- Oval display with 20 LEDs
- data memory for max. 75 exercises or 8.5 hours
- with integrated warning and safety system
- NiMH battery
-connection to a PC possible
Delivery:
- therapy device ST-2001 M
- Sturdy plastic case
- Charger
- Instructions for
Price (without guarantee):
The device is only available on loan!
SHI-Number:
SHI-Medical Technical Aids Register | 15.25.19.2018
Product Information from the Manufacturer / Distributor:
Further Product Details
Further Information
REHADAT does not sell any products
Please contact the manufacturer or distributor.
Manufacturer:
no data available

Distributor:
Haynl-Elektronik GmbH
Magdeburger Str. 117a
39218 Schönebeck
Germany Telephone: 03928 69414 Email: info@haynl.com Homepage: http://www.haynl.com
Technical Data:
Weight: 412 g
Dimensions (L x W x H): 190 x 100 x 60 mm
Resolution: 0.125 - 0.5 µV
EMG voltage range: 0 - 100 µV
Tightening time: 0 - 200s
Relaxing time: 1 - 200s
Power supply: 4x Mignon cells with at least 400mAh / 1.2V per battery


Options / Accessories:
- Anal sensor
- Vaginal sensor
- Lead wire (2mm pins)
- Snap-in adapter for K1 lead wire
- K3 lead wire (1.5 mm pins)
- EMG electrode for K3 lead wire
- ST2001- , PMS10 & ENU-WAL software (PC software)
Reference Number:
Hil132487
Source :
DIAS
Last Update: 24 Mar 2021