Assistive Product

PierenFemme
Product Type:
Muscle stimulator / continence stimulator
Technology: low-frequency stimulation current for muscles in the pelvic floor area.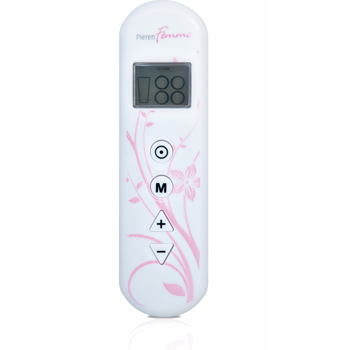 Areas of Application:
- Treatment of urinary and fecal incontinence
- Strengthening the pelvic floor muscles
Features / Components:
- 1 channel
- 4 preset programs
- digital display
- AKS (output short circuit)
Delivery:
- 1 PierenFemme device
- Vaginal probe V2B, type 5
- 1.5 V micro battery AAA
- Instructions for
Price (without guarantee):
129.00 EUR including VAT.
Retail price
Price date: 24.03.2021
Product Information from the Manufacturer / Distributor:
Further Product Details
Further Information
REHADAT does not sell any products
Please contact the manufacturer or distributor.
Manufacturer:
Pierenkemper GmbH
Am Geiersberg 6
35630 Ehringshausen
Germany Telephone: 06443 8333-175 Email: info@pierenkemper.eu Homepage: https://pierenkemper.eu/
Distributor:
Schwa-Medico Medizinische Apparate Vertriebsgesellschaft mbH
Wrtzlarer Str. 41-43
35630 Ehringshausen
Germany Telephone: 06443 8333-0 Email: info@schwa-medico.de Homepage: https://schwa-medico.de/de
Technical Data:
Weight: 40 g (without accessories)
Dimensions (L x W x H): 120 x 34 x 20 mm
Frequency: 10 - 50 Hz
Power supply: 1.5 V AAA battery
Intensity: 60 mA
Pulse width: 250 μs
output current: 0 - 60 Vss (an Ohm reel)


Options / Accessories:
- Anal probe
Reference Number:
IW/042709.35
Source :
DIAS
Last Update: 24 Mar 2021