Assistive Product

Rehalito
Product Type:
Muscle stimulator
Technique: EMS (electrical muscle stimulation)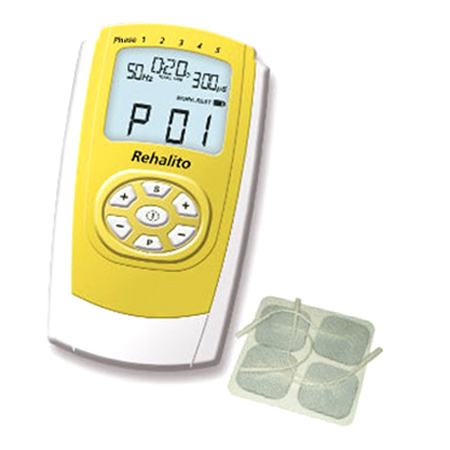 Areas of Application:
- Building and strengthening weakened and / or healthy muscles
- Increasing muscle endurance
- Avoiding or delaying muscle wasting (atrophy) as a result of injuries
- Maintenance and enlargement of the range of motion
- improved blood circulation in the muscles
- faster regeneration of the muscles after exercise
Contraindications:
- direct stimulation via a metal implant
- pacemaker
- myocardial damage
- epilepsy
Features / Components:
- digital two-channel device
- 5 programs
- Freely configurable program
- Display of the remaining treatment times
- Time selection from 1 min. To 10 hours possible
- Automatic switch-off after interruption of use
- Detailed therapy control through Real Time Clock (RTC)
Delivery:
- Rehalito neurostimulator
- 2 x connecting cables for the electrode pairs
- Transport container
- Instructions for use
- Block battery 9 V
- 4 x self-adhesive electr
Price (without guarantee):
79.00 EUR including VAT.
Retail price
Price date: 02/17/2021
SHI-Number:
SHI-Medical Technical Aids Register | 09.37.02.1002
Product Information from the Manufacturer / Distributor:
Further Product Details
Further Information
REHADAT does not sell any products
Please contact the manufacturer or distributor.
Manufacturer:
MTR+ Vertriebs GmbH
Kamenzer Damm 78
12249 Berlin
Germany Telephone: 030 6699-1030 Email: info@mtrplus.com Homepage: http://www.mtrplus.com
Distributor:
MTR+ Vertriebs GmbH
Kamenzer Damm 78
12249 Berlin
Germany Telephone: 030 6699-1030 Email: info@mtrplus.com Homepage: http://www.mtrplus.com
Technical Data:
Channels: two isolated, independent channels
Pulse shape: asymmetrical, rectangular, biphasic (without direct current component)
Intensity: 0 - 80 mA
Frequency: 1 - 150 Hz
Pulse width: 50 µs - 450 µs
Rise time: 0.1 - 9 , 9 seconds
Power supply: 9 volt block battery
Dimensions: 117 x 66 x 33 mm
Reference Number:
IW/042709.44
Source :
DIAS
Last Update: 17 Feb 2021