Assistive Product

WalkAide
Product Type:
Muscle stimulator
Technology: FES (functional electrical stimulation)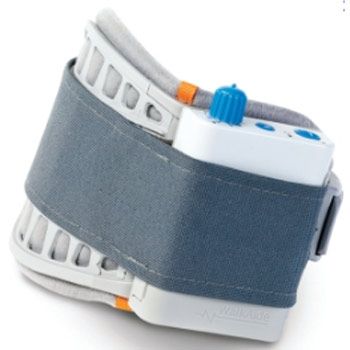 Areas of Application:
- Treatment of a centrally caused foot lifting weakness
Indications:
- Stroke
- Multiple sclerosis (MS)
- Infantile cerebral palsy (ICP)
- Skull and brain Injuries (SHT)
- incomplete paraplegia
Description:
It is a single-channel stimulator.
After a stroke or accident, those affected often suffer from permanent central weakness in lifting the foot. The affected foot is no longer properly controlled, which makes walking difficult. The highly developed WalkAide supply concept uses the latest sensor technology to analyze the movements of your leg and foot. It sends electrical signals to your peroneal nerve, which controls the movements in your ankle and foot. These gentle, electrical impulses urge the muscles to lift the foot at the right time and thus make walking easier.
Features / Components:
- reduces the inclination of the foot drop
- prevents movement restrictions
- promotes active range of motion
- promotes active muscle contraction in certain phases of the gait cycle
- prevents muscle atrophy
- easy on and off
- small closed device that is worn on the leg below the knee
Delivery:
- 1 WalkAide control unit,
- 1 WalkAide lower leg cuff
- 4 electrodes
- 1 electrode c
Price (without guarantee):
The price is on request at Manufacturer / distributor available.
Product Information from the Manufacturer / Distributor:
Walk Aide
Walk Aide 2.0
Further Information
REHADAT does not sell any products
Please contact the manufacturer or distributor.
Manufacturer:
Pro Walk Rehabilitationshilfen und Sanitätsbedarf GmbH
Woogstr. 48
63329 Egelsbach
Germany Telephone: 06103 70642-0 Email: info@prowalk.de Homepage: http://www.prowalk.de
Distributor:
Pro Walk Rehabilitationshilfen und Sanitätsbedarf GmbH
Woogstr. 48
63329 Egelsbach
Germany Telephone: 06103 70642-0 Email: info@prowalk.de Homepage: http://www.prowalk.de
Technical Data:
Weight: 87.9 g
Dimensions (L x W x H): 8.2 cm x 6.1 cm x 2.1 cm
Power supply: 1.5 V
Max. Stimulation period: 3 seconds
Pulse shape: two-phase asymmetrical
Pulse width: 25 - 300 microseconds


Options / Accessories:
- Foot sensor
- Cuff
- Electrode set
- Electrode cable

Similar Products:
- WalkAide 2.0
- can be used via app
Reference Number:
IW/042709.29
Source :
DIAS
Last Update: 24 Mar 2021