Assistive Product

audifon faro R TRT
Product Type:
BTE device
Ex-receiver device
Tinnitus masker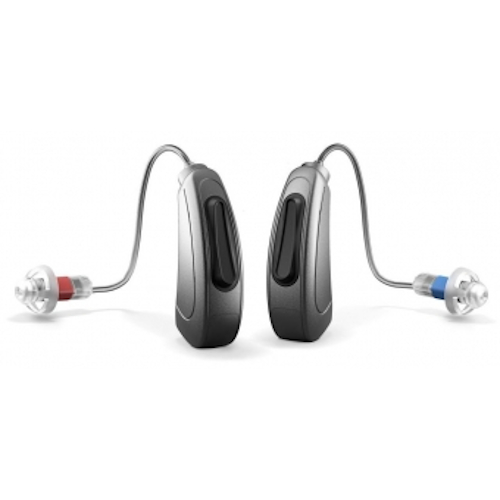 Areas of Application:
- Tinnitus therapy
Description:
faro TRT combination systems can be used for hearing losses of all kinds that are associated with tinnitus that occurs as part of a Tinnitus retraining therapy is treated with an intoxicator. faro works on the basis of audifons Storm DSP platform and achieves a high computing power of the processor for processing highly developed audio algorithms while at the same time reducing power consumption.
Features / Components:
- Wireless Connectivity
- easyclick
- binaural telephony
- Sound Dynamix
- adaptive directional microphone (ADM)
- notch filter (manual)
- adaptive feedback cancellation (AFC2)
- adaptive noise reduction (ANR)
- Expansion (Squelch)
- Auto T-Coil or Auto Phone
- data logging
- rocker switch (programmable)
- nanoShield
- Number of programs: 4 (incl. Auto T-Coil/Auto Phone)
- 6 programs within the program automatic
- Program switching tone (programmable)
- WDRC channels: 8
- Channels: 16
- Battery warning tone (programmable)
- battery compartment lock
- direct audio input
- TRT noise generator
- option: Easy Thin Tube Sy
Price (without guarantee):
The price is available on request from the manufacturer / distributor.
SHI-Number:
SHI-Medical Technical Aids Register | 13.20.14.1146
Product Information from the Manufacturer / Distributor:
Further Product Details
Further Product Details as PDF
Further Information
Options / Accessories:
- available unpainted in: anthracite, beige, nougat, silvergrey
- available painted in: arabica , blah ck, bronze, champagne, graphite
- hearing unit S
- domes
- conchabügel
- cerumen filter
Reference Number:
Hil134093
Source :
DIAS
Last Update: 31 Mar 2021