Content
Assistive Product

Rollstuhlwaage CE Comfort mit Klappsäule
Product Type:
Wheelchair scales for people in wheelchairs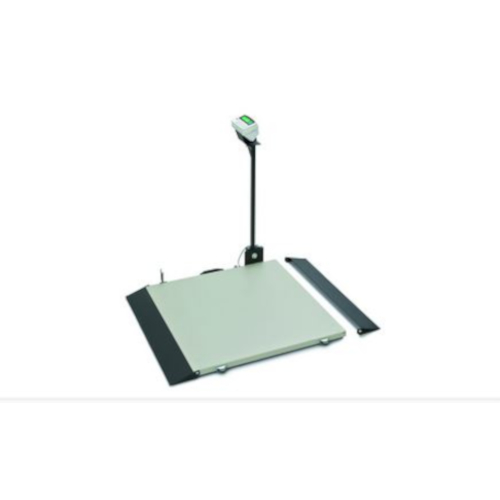 Areas of Application:
- People in wheelchairs
- Walking difficulties
Features / Components:
- Wheelchair scales with folding column for display device with large LCD display, 25 mm high
- Unit function, kg / lbs switchable
- automatic zero setting and function test
- tare and hold function
- pre-tare with 10 memory locations (e.g. for various wheelchairs)
- body mass index (BMI)
- mains and battery operation
- data interface RS 232 for printer and PC connection
- can be stored upright
- including a ramp, second ramp optional
Price (without guarantee):
The price is available on request from the manufacturer / distributor.
Product Information from the Manufacturer / Distributor:
Further Product Details
Further Information
REHADAT does not sell any products
Please contact the manufacturer or distributor.
Manufacturer:
no data available

Distributor:
Waagen-Schmitt GmbH
Hammer Steindamm 27-29
22089 Hamburg
Germany Telephone: 040 431359-0 Email: info@waagen-schmitt.de Homepage: http://www.waagen-schmitt.de
Technical Data:
Maximum load: 300 kg
Digit increments: 100 g
Weighing surface: 800 x 800 mm
Keywords
ISO
Search for similar prodcuts in REHADAT:
Search for similar products in EASTIN throughout Europe:
ICF Items
Reference Number:
Hil134746
Source :
DIAS
Last Update: 17 Feb 2021