Content
Assistive Product

EKG-Gerät Cardiofax G
Product Type:
EKG device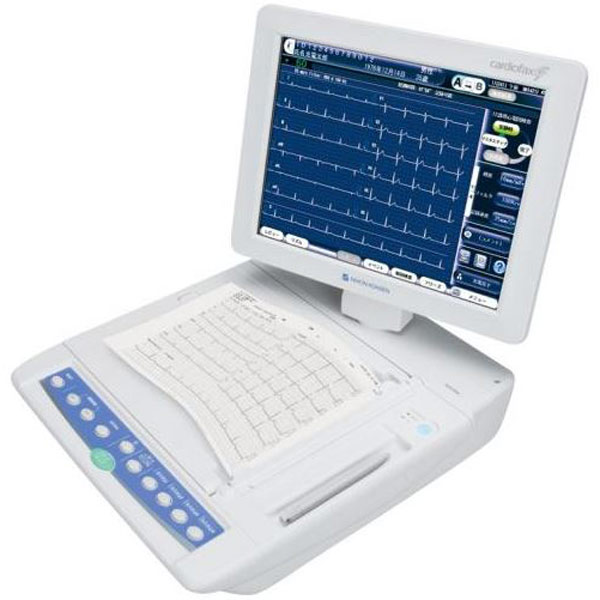 Areas of Application:
- Creation of electrocardiograms (cardiac voltage curves)
Description:
The Cardiofax G has the ECAPS 12C analysis program. It enables a simultaneous 12-lead ECG lead from 10 to 24 seconds and an analysis with around 200 findings and 5 findings categories. ECAPS 12C can also recognize the typical curves of a Brugada electrocardiogram. Based on a conventional 12-lead ECG, the synECi18 developed by Nihon Kohden offers 18-lead data by synthesizing the missing leads V3R to V5R and V7 to V9, thus helping to identify hidden ischemia.
Features / Components:
- 12-lead ECG with and without recorder
- swiveling 15 color display touchscreen
- EKG measurement program
- interpretation program
- mains / battery operation
- manual and automatic recording
- 12-channel rhythm analysis of up to 5 min.
- 800 resting ECG files can be saved
- Transfer of the ECG data to a PC via LAN or WLAN
- Optional ergometry control
- Optional data management software
Price (without guarantee):
The price is available on request from the manufacturer / distributor.
Product Information from the Manufacturer / Distributor:
Further Product Details
Further Information
REHADAT does not sell any products
Please contact the manufacturer or distributor.
Manufacturer:
Nihon Kohden Europe GmbH
Raiffeisenstr. 10
61191 Rosbach vor der Höhe
Germany Telephone: 06003 827-0 Homepage: http://www.nihonkohden.de Email: info@nke.de
Distributor:
Nihon Kohden Europe GmbH
Raiffeisenstr. 10
61191 Rosbach vor der Höhe
Germany Telephone: 06003 827-0 Homepage: http://www.nihonkohden.de Email: info@nke.de
Reference Number:
Hil133493
Source :
DIAS
Last Update: 16 Jul 2020