Content
Assistive Product

Spritzentablett
Product Type:
Medication tray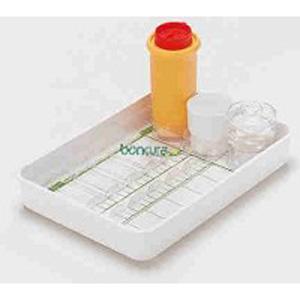 Areas of Application:
- distribution of medications
- preparation of medications
Features / Components:
- for 6 syringes up to 10 ml or insulin pens
- incl. utensil cups
- incl. Swab cup with lid
- incl. disposable collection box
- incl. labeling
Price (without guarantee):
The price is available on request from the manufacturer / distributor.
Product Information from the Manufacturer / Distributor:
Further Product Details
Further Information
REHADAT does not sell any products
Please contact the manufacturer or distributor.
Manufacturer:
no data available

Distributor:
boncura direkt GmbH & Co. KG
Lise-Meitner-Str. 1
33803 Steinhagen
Germany Telephone: 05204 989-175 Email: info@boncura.de Homepage: https://www.boncura-direkt.eu
Technical Data:

Size: 353 x 253 x 55 mm
Reference Number:
976201
Source :
DIAS
Last Update: 14 Jun 2022