Content
Assistive Product

UV-Bestrahlungsgerät medisun HF-216
Product Type:
UVA radiation device
UVB radiation device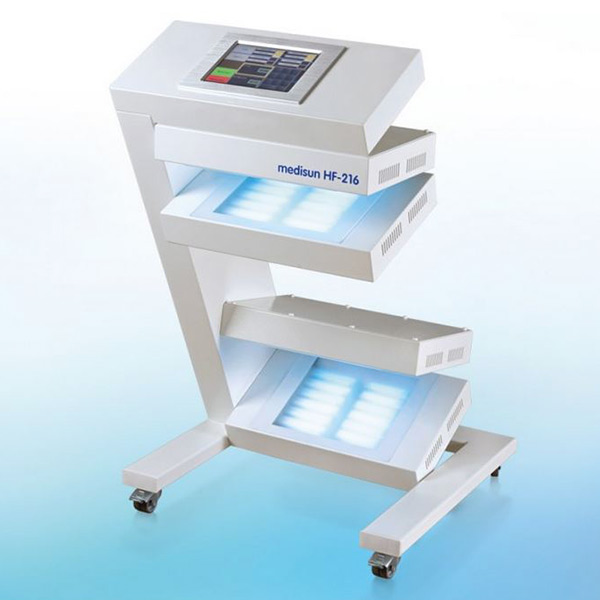 Areas of Application:
- UVA therapy
- UVB therapy
- Treatment of hands and feet
Indications:
- Psoriasis (psoriasis)
- Neurodermatitis
- Vitiligo (white spot disease)
- PUVA therapy
- Polymorphic light dermatosis (PLD)
Description:
With two or four modules, hands and feet can be treated at the same time.
Features / Components:
- Standing device
- Treatment while sitting
- Touch PC or microcontroller control with input in J / cm²
- Medisoft therapy management software
- Automatic switch-off at the end of the exposure time
- Programmable dose limits
- Integrated operating hours counter
- particularly powerful design with 8 or 16 UV high-performance lamps
- support surface made of UV-permeable acrylic
- optimal homogeneity thanks to a high-gloss reflector to increase intensity
- ergonomic module positions
- robust metal housing with plastic coating
- mobile stand trolley with brake rollers
- including protective gog
Price (without guarantee):
The price is available on request from the manufacturer / distributor.
Product Information from the Manufacturer / Distributor:
Further Product Details
Further Information
REHADAT does not sell any products
Please contact the manufacturer or distributor.
Manufacturer:
Schulze & Böhm GmbH
Hermülheimer Str. 10
50321 Brühl
Germany Telephone: 02232 57998-0 Email: info@medisun.de Homepage: http://www.medisun.de/de
Distributor:
Schulze & Böhm GmbH
Hermülheimer Str. 10
50321 Brühl
Germany Telephone: 02232 57998-0 Email: info@medisun.de Homepage: http://www.medisun.de/de
Options / Accessories:
- medisun HF-216 PUVA - 2 modules, 1 Jouletimer
- medisun HF-216 UVB311 - 2 modules, 1 Jouletimer
- medisun HF-216 PUVA - 4 modules, 2 Jouletimer
- medisun HF-216 UVB311 - 4 modules, 2 joulet timers
- medisun HF-216 AB - 4 modules, 2 joulet timers


Technical Data:
Dimensions (L x D x H): 80 x 72 x 100 cm
Weight 2 modules: 55 kg
Weight 4 modules: 70 kg
Mains connection: 230V / 50 Hz
UV lamps: 8x36 W (2 modules)
UV -Lamps: 16x36 W (4 modules)
Power max .: 800 W
Spectrum UVA: 315-400 nm
Spectrum UVB: 310-315 nm
Reference Number:
Hil133912
Source :
DIAS
Last Update: 4 Feb 2021