Assistive Product

Irmgard
Product Type:
Android app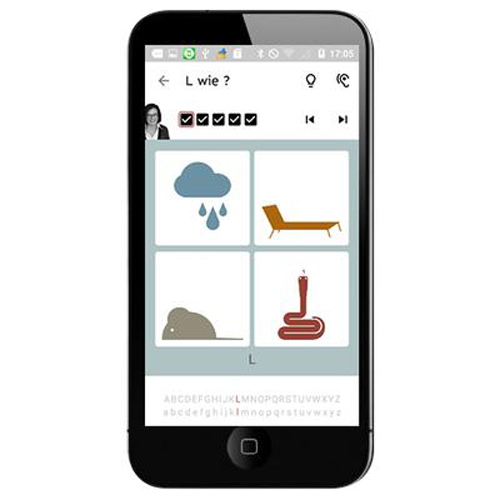 Areas of Application:
- for adolescents and adults with little or no reading and writing skills
- Writing skills
- Analphabetism
Description:
In the first level no previous knowledge is required. It begins with the introduction of the letters and sounds.
After the vowels have been introduced in module 1, reading and writing the first words is already started in module 2.
The next module can only be started once a module has been successfully completed. Within a module, the learner can jump between the tasks.
Features / Components:
- six modules, each with four to eight tasks
Price (without guarantee):
Free download from the Google Play Store
Product Information from the Manufacturer / Distributor:
Further Product Details
Further Information
REHADAT does not sell any products
Please contact the manufacturer or distributor.
Manufacturer:
KOPF, HAND + FUSS gemeinnützige Gesellschaft für Bildung mbH
Oudenarder Str. 16
13347 Berlin
Germany Telephone: 030 83216640 Email: info@kopfhandundfuss.de Homepage: https://kopfhandundfuss.de
Distributor:
KOPF, HAND + FUSS gemeinnützige Gesellschaft für Bildung mbH
Oudenarder Str. 16
13347 Berlin
Germany Telephone: 030 83216640 Email: info@kopfhandundfuss.de Homepage: https://kopfhandundfuss.de
Reference Number:
M/26635
Source :
DIAS
Last Update: 11 Nov 2020