Assistive Product

PALETTI zwo Lernpalette: Deutsch
Product Type:
Lernmaterial für die Deutschunterricht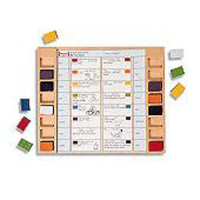 Areas of Application:
- Grammar
- Spelling
- Free work in German lessons in secondary level I
- Independent learning
Description:
The learning pallet consists of a wooden board with indentations on the edge for the colored stones. The work templates with the tasks are put on in each case. By solving the questions, the stones are inserted with the corresponding color. On the back of the template are the correct assignments so that the students can control themselves.
The tasks are suitable for the 5th and 6th school year.
Features / Components:
- Rectangular learning pallet made of maple wood with 16 colored stones
- Work template bag with 16 templ
Price (without guarantee):
(end consumer prices including VAT)
Price date: 04/12/2021
Product Information from the Manufacturer / Distributor:
Weitere Details zur Lernpalette PALETTI zwo
Weitere Details zur Arbeitsvorlagentasche A
Weitere Details zur Arbeitsvorlagentasche B
Further Information
Versions:
Order number: Model: Price:
760 learning palette with 16 colored stones 23.95 EUR

Work template bags:
Order number: Model: Price:
771 Spelling level A 15.95 EUR
781 Spelling level B 15.95 EUR
Reference Number:
M/23015
Source :
DIAS
Last Update: 12 Apr 2021