Assistive Product

Na Logo!
Product Type:
Language game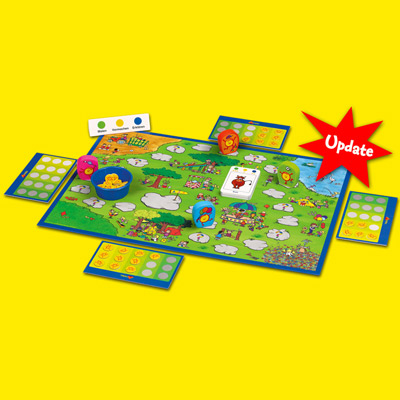 Areas of Application:
- Mother tongue training
- Speech therapy
- Language game
- Speech therapy
- Child
Description:
Learning game for training vocabulary, written language, knowledge, articulation and oral motor skills.
The game plan provides a game and Amusement park. In the course of the game, terms are named, demonstrated and drawn. As a reward there are game chips that are collected.
Features / Components:
- Game board
- Stickers for dice, stands and figures
- 6 wooden dice
- 3 wooden dice
- large wooden dice (for colored dice)
- 4 game figures
- 4 TROLLI trading cards
- 60 TROLLI chips
- Plastic cups for TROLLI chips
- Action type display

The basic game does not contain a set of cards.

Card sets:
41 different sets of cards with 32 playing cards each:
30 Sounds & oral motor skills: SCH, S, R, K, F, TR / DR, CH 1, L, KR / GR, G, W, T, B, CH 2, D, H, M, N, P, A, E, I , O, U, KV 1, KV 2, KV SCH, KV S, oral motor skills 1 (lip), oral motor skills 2 (tongue)
7 Vocabulary: animals, professions, food, leisure, bathroom, home, clothing
4 letters / knowledge: Letters LAS, letters VAS, letters DRUCK, colors
Delivery:
Basic game with 41 selectable card sets
Price (without guarantee):
23.80 EUR
Price for basic game; per set of cards: 7.20 EUR
(each retail price including VAT)
Price date: 11/11/2020
Product Information from the Manufacturer / Distributor:
Further Product Details
Further Information
REHADAT does not sell any products
Please contact the manufacturer or distributor.
Manufacturer:
TRIALOGO Verlag -Tobias Bücklein & Thomas Joekel GbR
Opelstr. 6b
78467 Konstanz
Germany Telephone: 07531 12836-0 Email: info@trialogo.de Homepage: https://www.trialogo.de
Distributor:
TRIALOGO Verlag -Tobias Bücklein & Thomas Joekel GbR
Opelstr. 6b
78467 Konstanz
Germany Telephone: 07531 12836-0 Email: info@trialogo.de Homepage: https://www.trialogo.de
Reference Number:
M/23419
Source :
DIAS
Last Update: 11 Nov 2020