Content
Assistive Product

Taktile 3D-Karten
Product Type:
Tactile maps in 3D design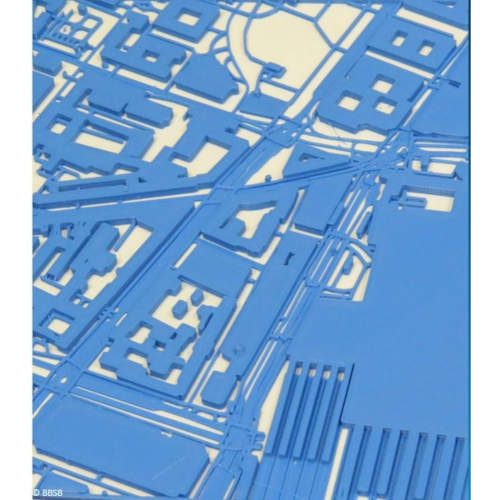 Areas of Application:
- Visual impairment
- Blindness
Description:
The BIT center of the Bavarian Association for the Blind and Visually Impaired offers maps for any address in 3D.
The tactile Cards are made of sturdy, slightly flexible plastic and are created with a 3D printer. The size is 17x17 cm with a standard scale of 1: 2000. The map allows a good recognition of even dense inner-city areas. Building floor plans, streets, footpaths, sidewalks and railway lines are easy to differentiate. Rivers and lakes can also be recognized by their surface structure. The desired address is marked with a small point. 340 by 340 meters are shown.
The current map material from OpenStreetMap is used for the models. An application converts the essential elements into a three-dimensional representation.

Working with 3D maps requires some practice. Explanations in exchange with a sighted person, using technical aids (e.g. card services with voice-over) or the additional, individual description that can be ordered from the BIT center are recommended.

An individual description of the card is also possible. It contains the streets shown, the main buildings and elements of the map and can also be ordered as a DAISY CD or MP3 file via email for EUR 15.00. Other scales and map sizes are possible by individual agreement.
The maps are produced individually. Exchange or return are therefore not possible.

This offer is a pilot project of the provider.
Price (without guarantee):
The price is available on request from the manufacturer / distributor.
Product Information from the Manufacturer / Distributor:
Further Product Details
Further Information
REHADAT does not sell any products
Please contact the manufacturer or distributor.
Manufacturer:
no data available

Distributor:
Bayerischer Blinden- und Sehbehindertenbund e.V.
Landesgeschäftsstelle
Arnulfstr. 22
80335 München
Germany Telephone: 089 55988-0 Email: info@bbsb.org Homepage: https://bbsb.org
Reference Number:
M/266017
Source :
DIAS
Last Update: 28 Jan 2021