Content
Assistive Product

MABEF M/30 Mal-Arbeitstisch
Product Type:
Painting work table for people in wheelchairs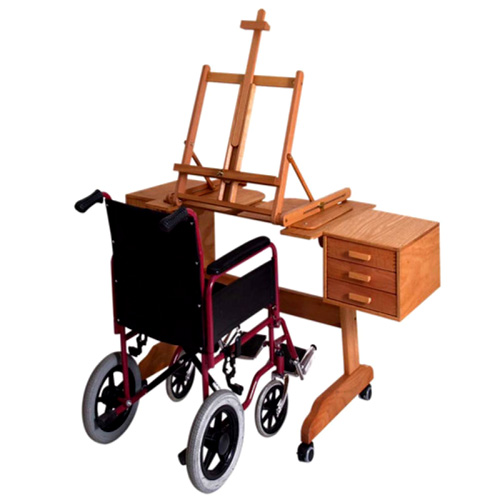 Description:
Mobile painting workstation with 4 castors (2 of which can be locked for a stable stand). The screen holder can be converted into a drawing table, whereby the table inclination can be continuously adjusted from horizontal to vertical using 2 wing screws. Thus this work table is suitable for almost all painting techniques: oil, acrylic, watercolor, pastel and all drying techniques. 3 drawers and a large storage compartment allow the storage of brushes, paints, water cups and other painting materials. The tools can be accommodated on the two side work areas of 35 x 40 cm. The painting workstation is also suitable for people in wheelcha
Price (without guarantee):
699.72 EUR
Retail price including VAT
Price date: 02/10/2021 (currently not in stock)
Product Information from the Manufacturer / Distributor:
Weitere Details des Herstellers
Weitere Details des Vertriebs
Further Information
REHADAT does not sell any products
Please contact the manufacturer or distributor.
Manufacturer:
MABEF - M.A.B.E.F. S.r.l.
Via. A. Volta 77/79
21010 Cardano al Campo
Italy Telephone: +39 331 261651 Email: info@mabef.it Homepage: http://www.mabef.com/de
Distributor:
Johannes Gerstäcker Verlag GmbH
Wecostr. 4
53783 Eitorf
Germany Telephone: 02243 889-0 Email: info@gerstaecker.com Homepage: https://www.gerstaecker.de
Technical Data:
Depth: 60 cm
Width: 133 cm (75 cm leg spacing)
Picture support: min. 150 cm, max. 185 cm
Weight: 33 kg
Height table: approx. 75 cm
For stretcher frames: up to 10 kg
Reference Number:
M/26688
Source :
DIAS
Last Update: 10 Feb 2021