Assistive Product

mediven struva 23
 | 

mediven struva 35
Product Type:
Stocking bandage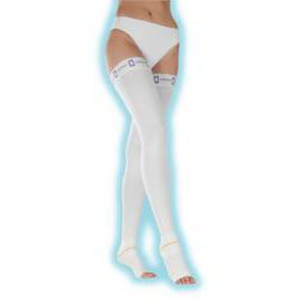 Description:
These stocking bandages have a comprehensive range of applications in outpatient and day-care treatment of thrombosis. Stocking bandages are particularly suitable for compression care after venous surgery. They are used instead of costly compression wrapping bandages and provide optimal compression of the surgical area.

Due to its pressure of 35 mmHg in the ankle area, the struva 35 stocking bandage is particularly suitable for use in venous surgery during and immediately after operations. Other areas of application are the compressive treatment of acute thrombosis as well as mild to moderate lymphological clinical pictures.

With a pressure of 23 mmHg in the ankle area, which decreases smoothly towards the thigh, the stocking bandage is particularly suitable for direct postoperative short-term compression after venous surgery. Venous return is promoted and the development of edema and bruising is prevented.
Features / Components:
- optionally with 23 mmHg or 35 mmHg restraint pressure
- stocking bandages offer the highest medical care security
- easy handling
- with specially knitted heel area
- the reinforced heel area ensures pressure reduction
- heel with color marking facilitates exact positioning on the foot
- painful constrictions or so-called window edema are avoided
- color-coded heel also facilitates size selection
- breathable and skin-friendly
- open toe facilitates permanent monitoring of blood circulation
- open toe also ensures hygiene of the spaces between the toes
- material: Polyamide, Elastane
- latex-free to avoid allergic reactions
- the stocking bandages are available in different sizes and l
Price (without guarantee):
Prices are available on request from the manufacturer / distributor.
Product Information from the Manufacturer / Distributor:
struva 23
struva 35
Further Information
Versions:
knee length, thigh length, thigh high or with hip attachment


Versions:
- struva 23 (23 mmHg restraint pressure)
- struva 35 (35 mmHg restraint pressure)
Reference Number:
D/00606
Source :
DIAS
Last Update: 6 Jan 2023