Assistive Product

Actico UlcerSys
Product Type:
Compression stocking, KKL 3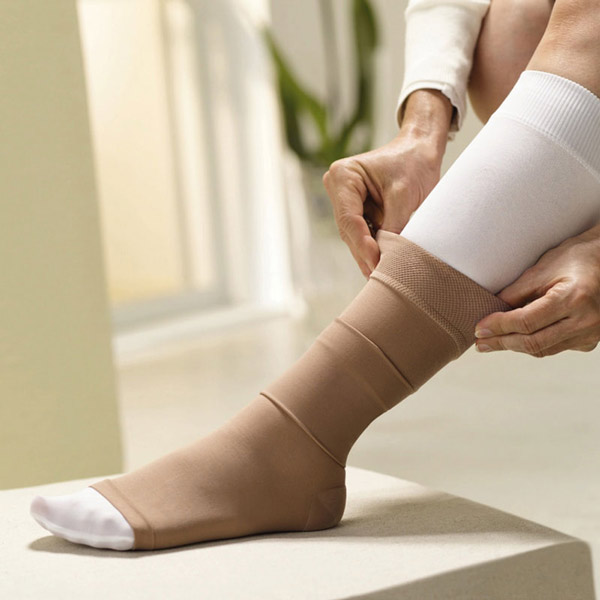 Areas of Application:
- prevention of recurrences of chronic venous ulcers
- for congestive dermatoses (e.g.. Eczema, pigmentation, lipodermatosclerosis, atrophie blanche)
- for venous edema
- for treatment of postthrombotic syndrome
- for follow-up treatment of sclerotherapy and varicose vein surgery
Description:
The Actico UlcerSys, is a two-piece circular knitted compression stocking system. It is a calf stocking in the form of a thin understocking and a thicker overstocking, each reaching to the knee. The lower stocking has a lower pressure than the upper stocking. Both together then result in the necessary pressure of 40 mmHg.
Delivery:
- one compression top stocking and two understockings
Features / Components:
- understocking can be worn at night (10 - 14 mmHg)
- is pulled over the understocking in the morning (26 - 34 mmHG)
- color selection: Understocking (white or sand)
- color selection: Upper stocking (sand or bl
Price (without guarantee):
The price is available on request from the manufacturer / distributor.
Product Information from the Manufacturer / Distributor:
Further Product Details
Further Information
Options / Accessories:
- Leg length standard: 38 - 42 cm
- Leg length long: 42 cm


Technical Data:

Size: ankle circumference: calf circumference:
S: 19 - 21 cm 31 - 39 cm
M: 21 - 23.5 cm 33 - 41 cm
L: 23 - 27 cm 35 - 44 cm
XL: 27 - 32 cm 39 - 48 cm
XXL: 32 - 37cm 43 - 52 cm
Reference Number:
Hil132686
Source :
DIAS
Last Update: 10 Jan 2023