Content
Assistive Product

LIEGE-ERGOMETER ergoselect 8
Product Type:
Reclining ergometer and treatment couch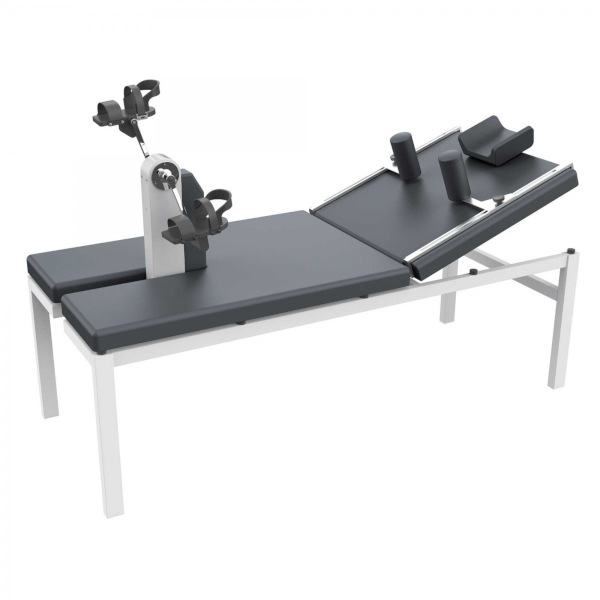 Areas of Application:
- Examination couch
- Reclining ergometer
- Standard requirements for medical ergometers
- Exercise ECG
Description:
The examination couch can be converted into a reclining ergometer. The ergometry unit is sunk into the lying surface and folded up if necessary. Adjustable, detachable shoulder rests provide a counter bearing during the stress test. The construction of the ergoselect 8 is tailored to both requirements.
During the ergometry, the patient is shown the current cadence for control purposes - additional symbols warn of too low or too high a frequency.
The display can be swiveled to the side when not in use.
The large head section can be lifted up to 45 with gas pressure springs. Standard rails attached to the side enable standard accessories (e.g. infusion holder) to be attached.
ECG manufacturers support the control of the ergoline ergometer in their systems for exercise ECG or spiro-ergometry.
Features / Components:
- Ergometry unit foldable
- quiet belt drive
- universal interfaces
- different upholstery colors available
- various extens
Price (without guarantee):
The price is available on request from the manufacturer / distributor.
Product Information from the Manufacturer / Distributor:
Further Product Details
Further Information
Technical Data:
Length: 200 cm
Width: 75 cm
Height: 68 cm
Weight: approx. 159 kg
Load range: 6 - 450 (up to 1000 watts optional)
Patient weight: up to 225 kg
Reference Number:
Hil134680
Source :
IDTS
Last Update: 25 Jan 2021