Assistive Product

Stehtrainer Monkey
Product Type:
Standing exercise device for children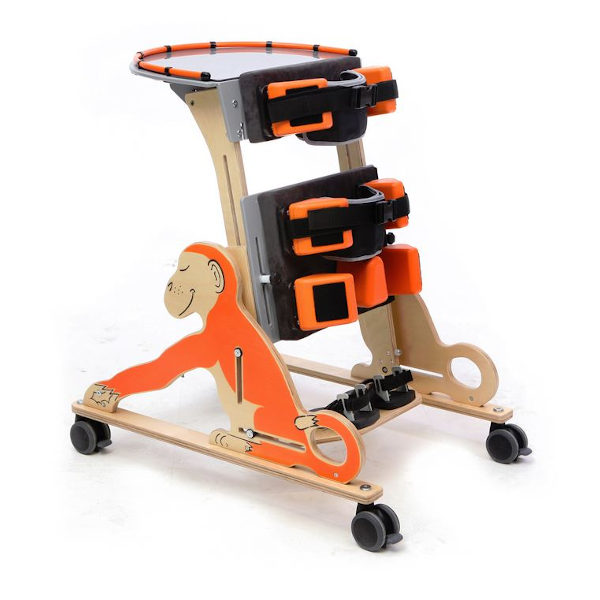 Description:
The standing trainer Monkey is suitable for children between 9 months and 4 years. It can hold up to 25 kg and has various optional extensions. In addition to various soft pads and upholstery, it has a fuselage stabilization table with a rim. This allows the user to play and work while standing, for example during therapy. In addition, the standing trainer can be tilted at an angle of 20 degrees - 90 degrees, and thus also serves as a stomach reclining board.
Features / Components:
Basic equipment:
- 4-leg base with locking rollers
- complete body padding including Velcro straps
- angle-adjustable therapy table including shell and cover plate
- loadable up to 25 kg
- childs fixation with Velcro fasteners
- adjustable side supports
- fixation sandals can be opened to the rear
- integrative 2-color therapy table
- angle-adjustable therapy table
- standing trainer can be used be tilted at an angle of 20 degrees - 90 degrees
- environmentally conscious design made of wood
- swiveling 75 mm transport wheels, lockable if necessary
Price (without guarantee):
The price is available on request from the manufacturer / distributor.
Product Information from the Manufacturer / Distributor:
Weitere Details des Herstellers (Englisch)
Weitere Details des Vertriebs (Sieber, CH)
Further Information
REHADAT does not sell any products
Please contact the manufacturer or distributor.
Manufacturer:
Jenx Limited
Wardsend Road
S6 1RQ Sheffield
United Kingdom Telephone: +44 114 285-3376 Email: export@jenx.com Homepage: http://www.jenx.com
Distributor:
Orthopädie- und Rehatechnik Sieber
Depotstr. 4
3012 Bern
Switzerland Telephone: +41 31 3027159 Email: info@ot-sieber.ch Homepage: https://ot-sieber.ch/
Reference Number:
Hil134072
Source :
DIAS
Last Update: 13 Jul 2020