Assistive Product

Stehtrainer Rex
Product Type:
Standing exercise equipment for children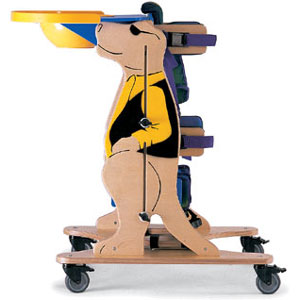 Description:
The standing trainer Rex is suitable for children between 3 and 7 years. It can be loaded up to 35 kg and has various optional extensions. In addition to various soft pads and cushions, it has a trunk stabilisation table with edge. This enables the user to play and work during therapy, for example, even when standing.
Features / Components:
Basic equipment:
- 4-legged base frame with locking castors
- complete body padding incl. velcro straps
- angle adjustable therapy table incl. bowl and cover plate

other features:
- fixation of the child by velcro fasteners
- adjustable side pads
- Fixation sandals can be opened to the back
- Integrative 2-colour therapy table
- angle-adjustable therapy table
- swivel-mounted 75 mm transport castors, lockable if requ
Price (without guarantee):
The price is available on request from the manufacturer / distributor.
Product Information from the Manufacturer / Distributor:
Weitere Details des Vertriebs (Sieber, CH)
Further Information
REHADAT does not sell any products
Please contact the manufacturer or distributor.
Manufacturer:
Jenx Limited
Wardsend Road
S6 1RQ Sheffield
United Kingdom Telephone: +44 114 285-3376 Email: export@jenx.com Homepage: http://www.jenx.com
Distributor:
Orthopädie- und Rehatechnik Sieber
Depotstr. 4
3012 Bern
Switzerland Telephone: +41 31 3027159 Email: info@ot-sieber.ch Homepage: https://ot-sieber.ch/
Technical Data:
Hip width: 20 - 29 cm
Chest width: 20 - 29 cm
Thoracic pad, upper edge to foot plate: 74 - 99 cm
Pelvis padding, upper edge to foot plate: 28 - 74 cm
Therapy table, work surface: 56 x 42 cm
Overall dimensions: 66 x 59 x 88 cm
Load capacity: 32 kg
Product weight: 18 kg
required floor space: 66 x 59 cm
Reference Number:
M/24580
Source :
DIAS
Last Update: 13 Jul 2020