Assistive Product

Biometrisches Stehsystem Da Vinci
Product Type:
Standing device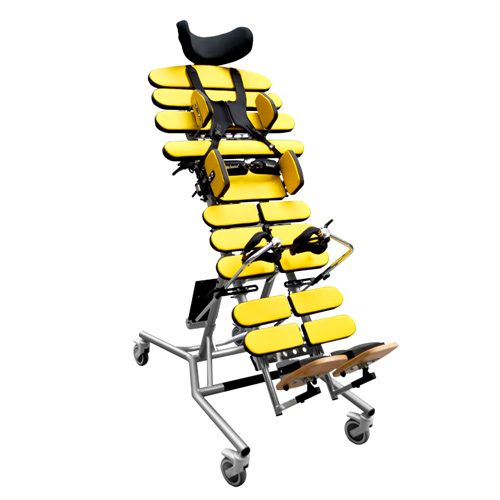 Description:
The upper body support is formed by several support segments, which are hinged to the base frame and enable smooth adaptations to the user's body shape in height, depth and inclination with each individual segment. In this way, even the most severely multiply disabled persons are guaranteed the largest possible support surface. The pressure relief achieved in this way provides the user with maximum positioning comfort on the way from horizontal positioning to the vertical standing position. The pelvic support with its central function for correct and comfortable positioning can also be adjusted three-dimensionally. In this way, even extremely asymmetrical people can be positioned safely and in a medically therapeutic manner. The upper segments of the upper body support are built wider to provide assurance for the arms and prevent lateral slipping in horizontal positions. Like the segments of the upper body support, the leg support segments are adjustable via joints and equipped with anatomical knee pads. This ensures optimal adaptations to hip and knee flexion contractures. Due to its unique and innovative design, the biometric standing system offers users maximum individuality and positioning comfort. It offers a wide range of positioning variables and sophisticated feature options. The biometric standing system can grow with the user in various ways. For example, not only are the mounting tubes of the footrests movable, but the frame can also be extended from above by inserting additional support segments.
Features / Components:
- base frame with transport wheels
- biometric back system
- split biometric leg rest
- inclined adjustment
- split foot plates
- pelvic pads
- bodice
- head support
- knee pads (anatomi
Price (without guarantee):
The price is available on request from the manufacturer / distributor.
SHI-Number:
SHI-Medical Technical Aids Register | 28.29.02.1047
Product Information from the Manufacturer / Distributor:
Further Product Details
Further Information
Versions:
Da Vinci Biometric Standing System
for children and adolescents Type 168
Body height from 120 cm-155 cm
Max. User weight: 60 kg
Incline adjustment electric

"Da Vinci" Biometric Standing System
for adults Type 169
Body height from 150 cm-180 cm
Max. User weight: 90 kg
Incline adjustment electric
Reference Number:
M/26135
Source :
DIAS
Last Update: 19 Jul 2022