Assistive Product

Stehbrett RFH 20.100
Product Type:
Mobile Tilt Table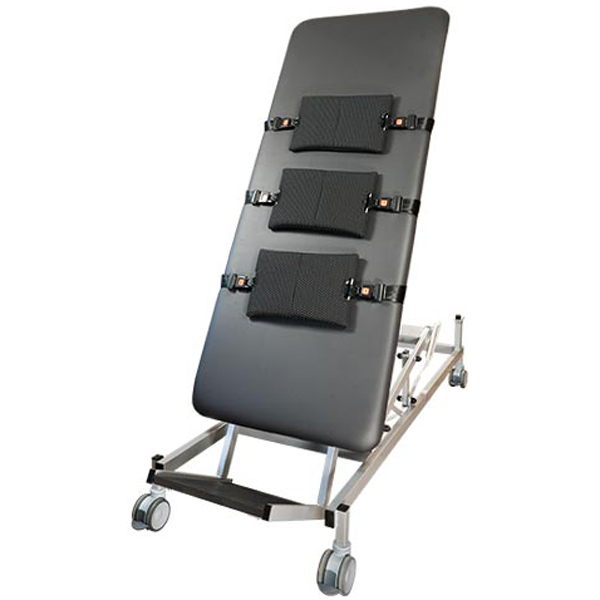 Areas of Application:
(according to manufacturer)
- Appolex (stroke) with hemiplegia
- Multiple Sclerosis
- Parkinson's Disease
- Waking Coma
Description:
The tilt table enables lying functions for treatment and smoothly raising patients from the lying position up to a maximum of 85 degrees. the patient is fixed in the knee, pelvis and chest area by three restraining belts.
Features / Components:
- one-piece lying surface
- externally powered standing function
- mobile
- control: manual switch
- drive element: electromotive
- electrically driven linear motors
- base frame: with double castors (individually brakable), made of sectional steel tubing, with plastic coating (white aluminum)
- upholstery: two-layer foam padding
- cover: water- and UV-light-resistant artificial leather
- belt system:
- with one chest strap and padded cushion
- with one pelvic strap and padded cushion
- with one leg strap and padded cushion
- different lying surface dimensions poss
Price (without guarantee):
The price is available on request from the manufacturer / distributor.
SHI-Number:
SHI-Medical Technical Aids Register | 28.29.02.1040
Product Information from the Manufacturer / Distributor:
Further Product Details
Further Information
Technical Data:

Lying surface (W x L): 73 cm x 205 cm
Angle of inclination: 85 degrees
Mains connection: 220 to 240 V
Roller diameter: 100 mm
Minimum room height: 210 cm
Weight: 85 kg
Lifting capacity: person weight up to max. 135 kg = 1,700 N safe working load


Options / Accessories:
- Head fixation with attachment
- Therapy table
- Hip and upper body supports (pair)
- Arm supports (pair)
- Lying surface slot
Reference Number:
M/25124
Source :
DIAS
Last Update: 29 Nov 2022