Assistive Product

LIEGE-ERGOMETER ergoselect 10
Product Type:
Half-reclining ergometer and treatment lounger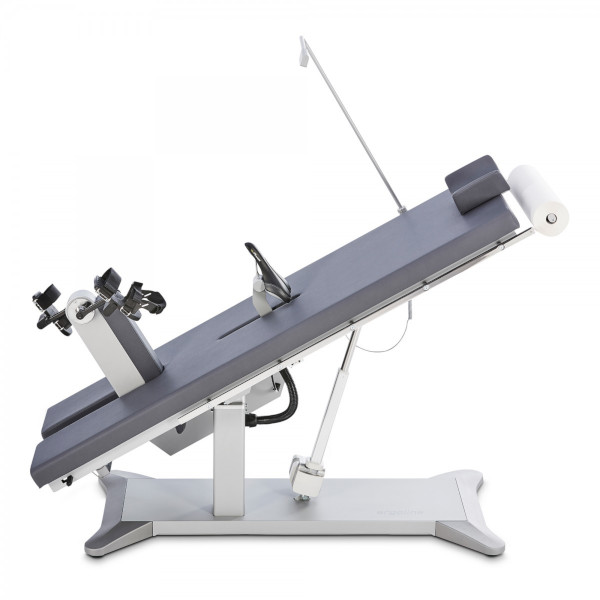 Description:
The half-reclining ergometer is also a multifunctional lounger and offers more assurance during ergometry, especially for elderly patients. The lying surface can be adjusted from the horizontal position up to a 45 degree inclination. The adjustment of the inclination angle and the saddle position is done electrically by a remote control. Conversion to an examination couch is achieved in a few simple steps. The ergometry unit is lowered into the lying surface and the saddle is removed.
The saddle can be pulled upwards. No disturbing rails or fastening elements remain in the lying surface. Different saddle adapters allow adaptation even to special patient sizes.
During ergometry, the current cadence is displayed to the patient for checking purposes. Additional symbols warn if the frequency is too low or too high.
The display is directly connected to the headrest and can be swung away to the side when not in use.
ECG manufacturers support the control of ergoline ergometers in their systems for stress ECG or spiro-ergometry.
In addition to the RS-232 and USB interfaces provided as standard, wireless connections via Bluetooth or WLAN are also available.
Features / Components:
- remote control via radio (optional via wireless)
- ergometry unit can be folded down
- quiet belt drive
- various upholstery colors available
- universal interfaces
- various extens
Price (without guarantee):
The price is available on request from the manufacturer / distributor.
Product Information from the Manufacturer / Distributor:
Further Product Details
Further Information
Technical Data:

Length: 220 cm
Width: 90 cm
Height: 180 cm
Weight: approx. 217 kg
Patient weight: up to 200 kg
Load range: 6 - 450 watts (optionally up to 1000 watts)
Reference Number:
Hil134681
Source :
IDTS
Last Update: 4 Apr 2023