Assistive Product

alluvial Leichtspiegel
Product Type:
Correction mirror, mobile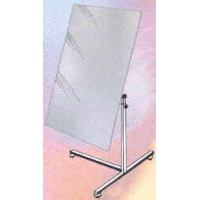 Description:
The manufacturer supplies especially light mirrors for use in physiotherapy for movement control.
To prevent a possible risk of injury, the mirrors are made of a special foil on the front as well as on the back. This is immediately imparted by gentle pressure, and is quickly returned to its distortion-free state.
In order to move the mirrors freely in the room, there are special wheel stands. The wheel stand is lockable and available up to a width of 140 cm and a height of 250 cm.
The mirrors can also hang like a picture on the wall.
Specially designed for motion control, a wheel stand has been developed which is mobile, height and inclination adjustable. The required position can be set using a wing screw.
Price (without guarantee):
On request at:Sales
Product Information from the Manufacturer / Distributor:
Further Product Details
Further Information
REHADAT does not sell any products
Please contact the manufacturer or distributor.
Manufacturer:
alluVial GmbH
Rosenheimer Str. 145 e
81671 München
Germany Telephone: 089 63898490 Email: info@alluvial.de Homepage: http://www.alluvial.de
Distributor:
alluVial GmbH
Rosenheimer Str. 145 e
81671 München
Germany Telephone: 089 63898490 Email: info@alluvial.de Homepage: http://www.alluvial.de
Reference Number:
M/18302
Source :
IDTS
Last Update: 22 Mar 2021