Assistive Product

Pedalo Wippbrett Rezeptor
Product Type:
Rocking Board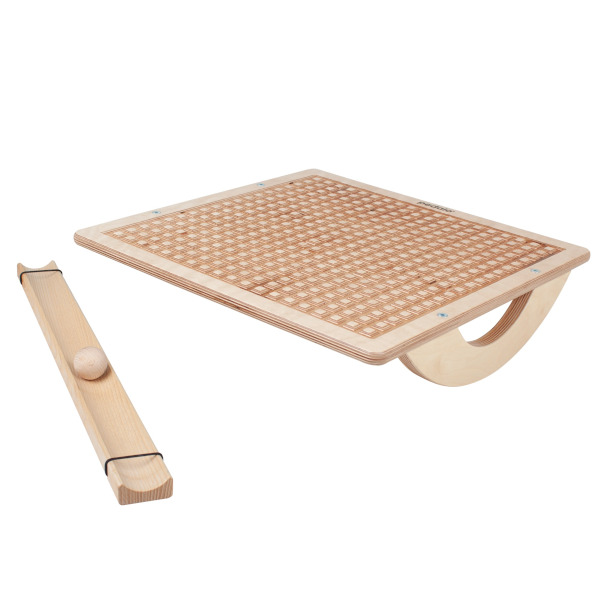 Areas of Application:
- Proprioception
- Posture Correction
- Eye-Hand Coordination
- Balance Training
Description:
(according to the supplier)
The incorporated nubs in the rocking board automatically trigger a mechanical stimulus on our CNS, which leads to conscious posture correction and thus better sensorimotor function. The combination with the ball track also trains the eye-hand coordination.
The included ball track, which is to be held ambidextrously and always horizontally while standing on the seesaw board receptor, additionally directs the attentiveness to the eye-hand coordination. Through combinations with the ball track and the task of standing on the receptor board with eyes closed, the ability to balance is challen
Price (without guarantee):
139.95 EUR including VAT (distribution)
End user price
Product Information from the Manufacturer / Distributor:
Further Product Details
Further Information
REHADAT does not sell any products
Please contact the manufacturer or distributor.
Manufacturer:
Holz-Hoerz GmbH
Dottinger Str. 71
72525 Münsingen
Germany Telephone: 07381 9357-0 Email: info@pedalo.de Homepage: https://www.pedalo.de
Distributor:
Holz-Hoerz GmbH
Dottinger Str. 71
72525 Münsingen
Germany Telephone: 07381 9357-0 Email: info@pedalo.de Homepage: https://www.pedalo.de
Technical Data:

Dimensions seesaw board: 46 x 46 x 10 cm
Ball track: 56 cm
Wooden ball: 3.5 cm diameter
Reference Number:
Hil135284
Source :
IDTS
Last Update: 25 Sep 2023