Assistive Product

B E R I Universal – Doppelzugtrainer
Product Type:
Pulling device for people in wheelchairs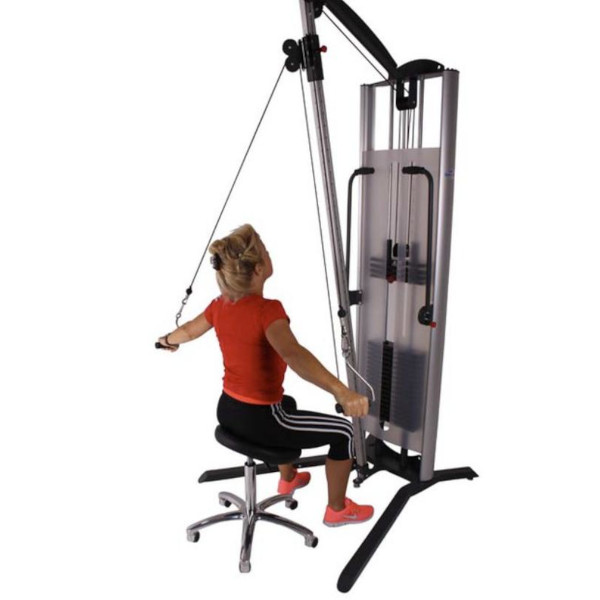 Description:
The device has an adjustment unit for people in wheelchairs, which enables the exercises to be carried out without outside help. Due to the inclined guide tube, free truck training is also possible. The freely movable deflection housing automatically adjusts to any desired or necessary direction of movement during pull training.
The starting position of the cable extensions can be adjusted to the height that can be reached from sitting using the locking bolts. If the starting position is to be adjusted further up, the adjustment tube is simply pushed onto the bolt and the locking bolt is released via the adjustment unit. After the adjustment, the adjustment tube is removed again. The device can be used again without restricti
Price (without guarantee):
2,650.00 up to EUR 3,150.00 plus VAT
depending on the version without accessories
retail price
Product Information from the Manufacturer / Distributor:
Further Product Details
Further Information
Options / Accessories:
Additional options: adjustable handrails, movement limiters, rotating handles, large and small pull rods, pulling cuffs
Thanks to different weight plates and weight packages, as well as the option of setting the weight 2 or 3 times redirect you have the opportunity to adapt the device.
The device is offered as a wall and floor model.


Versions:
FD 106 AL - universal - double pull trainer - wall model 60 kg
FD 107 AL - universal - double pull trainer - wall model 80 kg
FD 106R AL - universal - double pull trainer - wall model 60 kg
FD 107R AL - Universal - double pull trainer - wall model 80 kg
FD 108R AL - Universal - double pull trainer - floor model 60 kg
FD 109R AL - Universal - double pull trainer - floor model 80 kg
Reference Number:
M/25773
Source :
IDTS
Last Update: 26 Apr 2021